Philips and Sony TV Business - Up in Smoke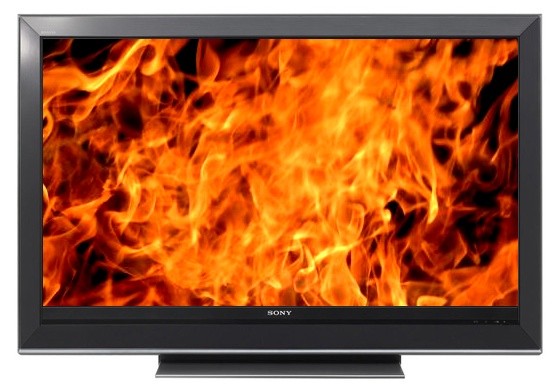 Philips and Sony TV Business - Up in Smoke
Two electronics companies. Two different approaches to dealing with failing TV divisions. Philips, the Dutch manufacturer that still makes the TVs seen in America under the name Funai, has decided to fold and step back from televisions in favor of more profitable business lines. Meanwhile, Sony has decided to double-down to try and restore its TV division to its former glory days.
In terms of the consumer market, there's never been a better time to buy a TV.  A new HDTV with extras like 3D, UPNP compatibility and a litany of streaming services can be had at lower prices than ever before. And you can get bigger screen sizes for less than consumers have ever paid in the past. These days a name brand 50-inch LCD panel with a built-in HD tuner and 120Hz refresh rate can go for well under $2K. It's also not hard to find a budget model for significantly less, the bargain hunter can dig up 50-inch plus panels for well under a kilo-buck.
While these may be great days for the consumer, they're dark times for the TV industry itself. The HDTV heyday of just five years ago is long gone.
The Philips Electronics company is just the latest to show signs of TV-business pain. The Dutch electronics manufacturer, co-branded Funai for the North American market has sold a majority of its money-losing Television business to Hong Kong computer-parts company TPV. For Philips, the sale offloads a segment of its business that has not turned a profit in years. Philips Chief Executive Officer Frans van Houten said after taking 272 million-euros ($363 million) for its TV business:
"The TV industry is changing, and we came to conclusion that we need to team up with a partner, the joint venture does not mean the end of Philips TVs, but a great future."
Philips will retain a 30-percent stake in the TV business while TPV assumes the majority 70-percent in the joint venture called TV Vision.
Meanwhile over at Sony the company's TV division is still going up in flames. 

It's so bad at Sony that company President Kazuro Hirai has announced he will personally see to the restoration of the once proud TV division to its legendary status and get the Sony Bravia back-in-black. Hirai says he will stake his reputation on restoring profit to the Sony TV.
These are words not to be taken lightly from the man who made Sony's PlayStation business a profitable venture and has recently taken over as CEO of the company. Hirai is bringing in a crack team of handpicked execs that seek to turn the fortunes of the Sony TV business around. They're already up against a gloomy forecast which says it will lose money for an eighth consecutive year.
NHL hockey fans can think of it this way… Sony TVs haven't been profitable since the last time the Toronto Maple Leafs made the playoffs.  
"The TV business is Sony's main business and (its recovery) is an absolute condition that must be met for the firm to recover its performance," said Keita Wakabayashi, an analyst at Mito Securities. "That's why it will be placed directly under (Hirai's) control, and means he has to take care of the most important issue."
Sony and Philips' pain in the TV division underscores the cut-throat competition in TV manufacturing coming out of China. The Korean TV companies like LG and Samsung are finding profit in mobile devices while the TV industry softens. Sony doesn't have this luxury, its Walkman brand hasn't translated into successful mobile devices and its newly acquired Sony Ericsson is still a long way off from presenting true competition to other devices. It's like Sony got trumped by the iPod, only to get trumped again by the iPhone. It's still trying to recover.
But Sony has made a commitment to rebuilding its home entertainment division and simultaneously building out its mobile gadgets. The strategy is to build both around a unified, cloud-based software and content platform that travels with the user from device to device. Sony calls it – PlayMemories Online.
Will Hirai succeed in turning Sony around? We're hoping PlayMemories Online has a little more to it than just becoming a pale imitation of the digital ground that Apple has already innovated.
Editor's Note on PlayMemories: If history is an indication, it will be a lofty but limited-in-scope platform that is redundant to existing solutions, has a terrible interface, is completely proprietary, and lacks a truly ergonomic user interface. Sony wants so much to be a leader, they tend to presume it in their new product developments and then acts surprised when the masses don't conform to their expectations. The one thing they have going for them is that, even in their pursuit of selling hardware sales, they aren't - like Apple - limiting the use of this software to those with Sony hardware. According to the online video for PlayMemories, it will work with both Andriod and iOS devices.