PHC Readies PMA Series DSP Programmable Amp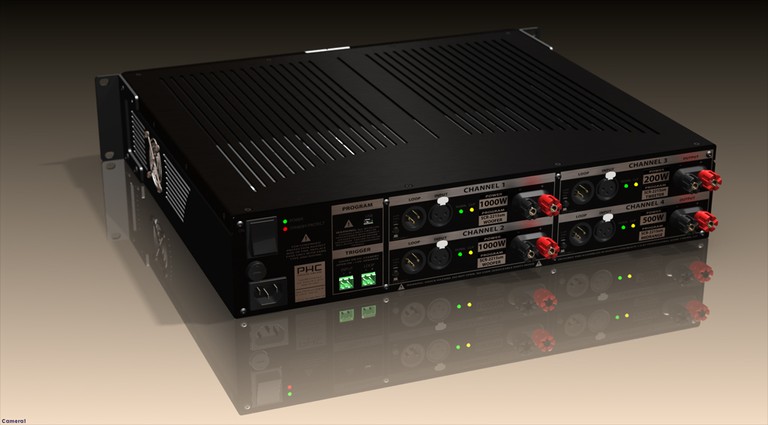 PHC PMA Series DSP Programmable Amp
Professional Home Cinema (PHC) will unveil the production models of its new PMA-Series Programmable Modular Amplifiers at CEDIA EXPO, redefining the roll of the power amplifier in high performance audio systems.
Each PMA amplifier utilizes a four-channel mainframe driven by a proprietary dealer programmable DSP engine.  The DSP front end includes digital crossover filters for all PHC loudspeaker models and easy to use system set-up and calibration abilities.  Energy efficient Class-D amplification is provided via ICEpower, supplying up to 4000 watts in a single 2-RU chassis weighing a mere 20 pounds.
The PMA-Series are the first products to introduce ultra-high resolution wide-band FIR (Finite Impulse Response) digital equalization to loudspeaker processing for the home environment.  This cutting edge technology results in final loudspeaker acoustic response an order of magnitude beyond that currently achievable through conventional passive or active methods.
As easy to operate as to install, each PMA amplifier is programmed via a custom Windows® Utility and GUI, providing a user-friendly interface to the installer.  System programming and calibration is performed via a series of intuitive drop down menus offering correction for speaker placement behind screens and fabrics, placement near multiple room boundaries, and individual channel gain.  An LCD display mounted in the front panel provides real time feedback for each channel during system setup; including power module identification, DSP programming, and EQ and gain settings. Signal present, and clip indicators are provided on the rear panel.  A diagnostic noise generator and looping outputs are also included.
PHC's uncompromising approach to product engineering has produced a full range of loudspeaker systems capable of reproducing commercial cinema output levels with unrestricted dynamics, and a sophisticated line of DSP driven amplifiers boasting the power levels needed to provide true-to-life performance for music and film. The result is dynamic and articulate sound that simply cannot be achieved with conventional consumer audio systems.
The PMA-Series will begin shipping in quantity in the first quarter of 2011.
About PHC / PRO Audio Technology
PHC / PRO was founded upon a simple principle: to combine the preeminent engineering technology from consumer and professional audio fields to produce the most accurate, robust and aurally-exciting audio products available for installed residential systems. For further information please visit www.professionalhomecinema.com and www.proaudiotechnology.com.