Phantom Gaming Console Launched by Infinium Labs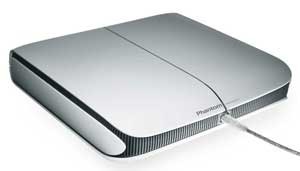 SARASOTA, Fla. - May 10, 2004 - Infinium Labs, Inc. (OTC BB: IFLB) will debut its much anticipated Phantom™ Gaming Service - the first end-to-end, ondemand game distribution service - at the Electronic Entertainment Expo (E3), in Los Angeles, May 12 - 14, 2004, at Booth 746 in the South Hall of the Los Angeles Convention Center. The E3 conference and exposition features the largest assembly of companies in the interactive entertainment market.
In a game industry first, the company plans to provide the Phantom Gaming Service hardware free of charge to consumers who sign a two-year contract for a basic subscription to its flagship online gaming service at $29.95 per month. Consumers can also opt to buy this advanced gaming "receiver" and required accessories without a commitment for $199, which will be credited back to their account over two years if they remain a subscriber.
Designed for the whole family, from the avid gamer to the casual player, the new service will offer subscribers a library of titles, from the top new games to old standards people want to play again and again - and make them available any time, day or night, from the comfort of their home. The Phantom Gaming Service is slated to go live on Thursday, Nov. 18, 2004.
The Phantom Gaming Service has four key components: the service itself, the receiver hardware, a robust yet flexible distribution network and a large library of games. Titles will be streamed on demand from the service to a Phantom receiver over any broadband Internet connection, in much the same way as consumers receive ondemand satellite or cable television content. Subscribers will receive an initial library of free games, which will be supplemented with new choices each month as a part of their subscription fee. Additional titles can be rented or purchased. Premium content packages will also be made available.
The receiver for the Phantom Gaming Service can sit in any room in the home, connected to the TV and any broadband Internet connection, and be used by various members of the household at different times of day. The receiver hardware will be designed to deliver a compelling entertainment experience into the future, featuring the AMD® Athlon™ XP 2500+ central processing unit (CPU), the NVIDIA® GeForce™ FX 5700 Ultra graphics processing unit (GPU) and the NVIDIA® nForce™2 Ultra 400 platform processor.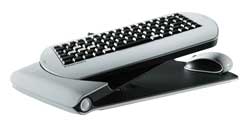 The Phantom Game Receiver will be produced in Asia by BIOSTAR®, a leading Taiwan-based contract manufacturer and will feature 256MB of main system memory and a 40GB hard drive. In addition, the receiver will come bundled with a gamepad, a mouse and the Phantom Lapboard, an extremely innovative peripheral that enables players to control games designed for keyboard and mouse usage as intuitively and with as much fidelity on the couch as they are used to in the office.
" Everybody loves games, both the casual player and the avid gamer," said Kevin Bachus, president, Infinium Labs. "People my age who grew up playing video games are now starting families of their own and are eager to play together. We'll have an array of titles, something for everybody. And all the consumer will have to do is sit down in front of the system, choose a title and begin to play. The service is that easy to use. We anticipate that every generation will be fighting over the controllers." The Phantom Gaming Service will give everyone in the household a personalized game system, from the selection of what interface they want to have to an individual filing system of their favorite titles, based on their choices. The Phantom Gaming Service will also "learn" the game preferences of individual users and automatically offer titles likely to please that player.
Games owned by the subscribing household or base location will be downloaded to reside on the hard drive in the Phantom receiver. Should the hard drive approach capacity, the service will recognize this and will manage the cache in the background, invisible to the user, removing those games that were played least recently. Down the line, if the user tries to call up a removed game, the Phantom service will simply re-stream it to the hard drive.
Both multiplayer and single player titles will be available when the system is launched, and players will be able to play over the Internet against other Phantom subscribers, as well as PC and console gamers. The service will not require that other players subscribe to the Phantom service to join in.
Bachus says the Phantom Gaming Service will give publishers increased visibility to a wider audience for their titles and new revenue from their back catalogs of games.
" With the Phantom Gaming Service, publishers can get a title to gamers within hours of when the gold master is cut," Bachus said. "They hand us a disc, and we'll do the rest, making it available to consumers in record time because we don't have to deal with physical manufacturing and distribution. We can also help publishers get a buzz going with rentals before the title arrives at traditional outlets. Another benefit will be a new revenue stream from previously released titles." Promotions and special packages such as a deal on groups of titles in a particular genre will be offered monthly to subscribers to the service. The Phantom Gaming Service will be available this fall through multiple distribution channels, including leading retailers.
" Retailers have been successful selling music download services, DVD rental clubs, satellite radio and television subscriptions, and multiple types of cell phones and service programs for quite a while since they offer the retailer access to ongoing subscription revenue," Bachus pointed out. "The major retail chains have responded positively to having a gaming service to offer as well."
Gaming centers and Internet cafés have also expressed interest in having the service on their premises. Bachus expects the Phantom Gaming Service eventually to be embraced by everyone from fraternities and college dorms, to bars and hotels, to military bases, airport executive clubs and libraries.
The Phantom Gaming Service will be demonstrated in an 8,000 sq. ft. booth at E3. Visitors can come by and test the service in real-life environments, sitting on a couch or on the floor in an iconic "family room," in the gathering area at a "dorm room" or sitting at a table in a "coffee shop." Starting today, visitors can go to the completely redesigned Phantom Gaming Service web site for the latest company and service information at www.phantom.net.
Infinium Labs, Inc. was founded by a management team with extensive experience in interactive media, entertainment, broadband services and technology. The company is set to launch a cutting edge online gaming service in the fourth quarter of 2004. The Phantom Gaming Service will be delivered online over any broadband network and offer a broad library of games designed to appeal to the avid gamer as well as the casual player. For more information, please visit www.phantom.net.