Peter Gabriels Play: The Videos DVD Features DTS 96/24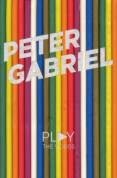 DTS (Digital Theater Systems, Inc.) announced that it recently supplied the new DTS Pro Series Surround Encoder to Peter Gabriel's Real World Studios, for its first commercial application, "Play: The Videos," the new video collection on DVD-V from the internationally renowned artist.
Featuring fully restored visuals and brand new 5.1-channel surround sound remixes by Gabriel and long-time production collaborator Daniel Lanios, the DVD comprises 23 videos encoded in DTS at 96 kHz/24 bit audio-quality throughout - the highest available sound quality on DVD-Video. Tracks span the artist's 27-year solo career, including hits like "Solsbury Hill," "Games Without Frontiers," "Biko," "Shock the Monkey," "Sledgehammer," "Don't Give Up," "Red Rain," "Big Time" and "Steam." Extras include three bonus videos, also mixed in 5.1 surround sound.
The video programme was put together entirely in-house at Gabriel's Real World Studios complex. Interactive Director York Tillyer, who oversaw both video and audio encoding teams, explained the choice of DTS as the preferred encoding option: "We're using full bit-rate DTS on this special project. It's the obvious choice for people listening in 5.1-channel surround; it just sounds much better and is far less compressed. Peter is very keen to achieve the best possible quality that he can on projects, so we encoded everything in DTS 96/24.
"The software encoder is very straight-forward to use and a big advantage is that it runs cross-platform, on both PC and Mac. This meant that we were able to run the audio encoding on our G5/ G4 workstations running the Final Cut Pro and Sonic Creator applications."
"Play: The Videos" was released by Warner Vision International on DVD-Video on October 26, 2004. For more information, visit www.petergabriel.com .
The new DTS Pro Series Surround Encoder is an affordable stand-alone solution for the Mac or PC which, along with the DTS Pro Series Network Encoder, a cost-effective networked solution for large post-production facilities based on the Apple's Xserve RAID storage system, offers the first commercially-available solution for creating high-quality 96kHz and 6.1-channel discrete DTS-ES soundtracks. Both encoders can be used to create multi-channel DTS soundtracks for DVD-Video, DVD-Audio and 5.1 CD titles. The DTS Pro Series encoders provide the only 96kHz multi-channel audio solution for video content on DVD-Video and DVD-Audio discs. Presenting solutions for the different workflows utilized in most pro audio facilities worldwide, the encoders are now available through the DTS' international distribution network ( www.dtsonline.com/pro-audio/find/ ).
About DTS Consumer/Pro Audio Division
DTS is an innovator in the development of multi-channel digital sound solutions for the consumer electronics and professional audio markets, including home A/V, video games and consoles, broadcast, personal computers and mobile and portable audio systems. Today, every major consumer electronics manufacturer supports DTS technology. Addressing the demand for DTS-encoded content worldwide, DTS also offers hardware and software encoders to the professional audio communities, allowing them to produce DTS audio content directly.
About DTS
DTS (Digital Theater Systems, Inc.) (NASDAQ: DTSI) is a digital technology company dedicated to delivering the ultimate entertainment experience. DTS decoders are in virtually every major brand of 5.1-channel surround processors, and there are 280 million DTS-licensed consumer electronics products available worldwide. A pioneer in multi-channel audio, DTS technology is in home theatre, car audio, PC and game console products, as well as 5.1 Music Discs, DVD-Video, DVD-Audio and DVD-ROM software. Additionally, DTS is featured on more than 23,000 motion picture screens worldwide. Founded in 1993, DTS is headquartered in Agoura Hills, California and has offices in the United Kingdom, Japan and China. For further information, please visit www.dtsonline.com .
DTS, DTS-ES, and DTS 96/24 are trademarks of Digital Theater Systems, Inc.