Periscope Flip Cover+Light for Kindle 2, DX and Nook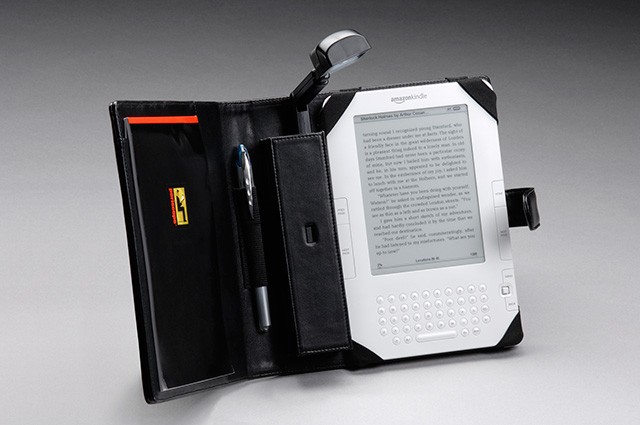 Periscope Flip Cover+Lights
As the number of e-reader devices grows larger by the minute, Periscope, a leading manufacturer and marketer of Cover+Lights for e-reader and traditional hardcover and paperback books, today announced the introduction of its new patented Periscope Flip Cover+Light in two versions - one that's compatible with both the Amazon Kindle 2 (6" screen) and Barnes & Noble nook e-readers and a second larger version that is compatible with the Amazon Kindle DX e-reader.
"As the market for e-readers grows and expands at an explosive rate, so too does the demand for e-reader covers and reading lights," Fisherman said today.  "Covers and lights are essential components of the e-reader package and neither is included with a basic e-reader purchase.  What's more, all current e-readers are standardized on a screen technology that is not back lit, which makes the purchase of a reading light mandatory if the product is to be enjoyed in a low light environment. 
"Some companies offer e-reader covers; others offer clip-on e-reader lights.  Only Periscope, however, offers a single elegantly designed solution that integrates high powered, eco-friendly twin LED lights within a cover," Fisherman emphasized.  "And our solution is patent protected, which offers our retail partners a unique profit opportunity that cannot be easily replicated by other manufacturers."
Equally important, according to Fisherman, is the fact that the one Periscope Flip Cover+Light solution works with both the Kindle 2 and Barnes & Noble nook e-readers.  "One solution for two market segments translates into a greater sales opportunity for our retailers," he explained.
Like all Periscope Cover+Lights for e-readers as well as traditional hardcover and paperback books, the new Flip Cover+Light combines a cover and retractable reading light in one package. Readers simply slip their e-reader into the cover, pull up the retractable LED reading light and begin reading.  When they are finished reading, they re-tract the light into the spine and close the cover.  Now the e-reader is protected. Everything stays together until the next time it is needed for reading, working, or studying!  The built-in retractable twin LED light is powered by three "AA" batteries (not included) that will last at least 40 hours. The cover features a magnetic snap closure that secures the e-reader when traveling.  A mini-travel 110-220V AC adapter is available for purchase separately.
Periscope offers e-reader covers in both Flip models, which fold over the top of the e-reader and Folio models, which open up right to left, like a traditional book would.  The new Flip Cover+Lights are available in black and feature a stylish brown trim accent. 
Periscope reading lights answer a common dilemma faced by travelers, commuters and late-night readers: how to illuminate a book in dark places without cords, clips or clutter. The Periscope Book Light in a Bookcover is a single, lightweight design that integrates a superb, retractable reading light inside a bookcover.  With a Periscope Book Light in a Bookcover, the light never leaves the book being read!
The new Flip Cover+Lights are available at the following suggested retail prices: $49.95 for the Kindle 2/Nook version and $59.95 for the larger Kindle DX version.Both new Flip models are available for immediate delivery at www.periscopelight.com.