Parasound NewClassic Amps & Processor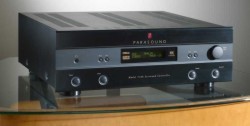 Parasound has announced the introduction of five new power amplifiers and a 7.1 channel A/V surround controller as the first of the company's "NewClassic" line of products for professional custom audio-video system integrators and installers. The NewClassic line provides high-value, high-performance, and competitively priced products with installer-focused feature sets and attractive, no-nonsense design.
"Custom installers are a major segment of our customer base," said Richard Schram, Parasound's president and founder. "We designed these NewClassic models to better fit the custom installer's business model, giving them the integration features, flexibility, performance, and durability necessary to satisfy clients and assure profitability."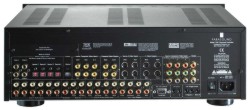 The Parasound NewClassic series includes the Model 7100 AV Surround Controller, a 7.1-channel THX Ultra2-certified processor that supports every major audio format in use today, including Dolby Digital ProLogic IIx. Rear panel connections include eight digital audio inputs and thirteen video inputs. Its comprehensive feature set includes video upconversion, including onscreen display for component video to simplify connections, and Lipsync adjustments that can be saved in five assignable preset profiles. It also features a full suite of control and integration capabilities, including one fixed and two programmable 12V trigger connections, a two-way RS-232 control port, and two external IR repeater inputs. Finally, the available PC easy setup software simplifies and speeds up configuration and backup of system settings. A three rack space RMK33 rack mounting kit is available for secure rack mounting. The Parasound Model 7100 includes a back-lit universal/learning remote control and has a suggested retail price of $3000.
All of the NewClassic power amplifiers are designed for efficient, low heat operation. Each model features high current capabilities, fully discrete circuitry, gold plated RCA inputs, and heavy-duty 24 K gold plated 5-way speaker terminals. The two channel models are rated for continuous power output even down to 2 ohms. They are also bridgeable for high power operation with both 8 and 4 ohm mono loads. The two-channel models also feature a 20 or 40 Hz switchable 18dB/octave high pass filter that provides amplifier protection in systems employing autoformers, and improves performance and efficiency when driving inwall or ceiling speakers where amplifier output below 40 Hz is wasted.
The Model 5125 and Model 5250 amplifiers are both THX Ultra2 certified, delivering 5 x 125 and 5 x 250 watts per channel (all channels driven) into 8 ohms. Each employs a dual toroid transformer power supply for exceptional high current capabilities. With 4 ohm loads, the Model 5125 provides continuous power output of 185 watts per channel, and the 5250 delivers 385 watts, each with all channels driven. Rack mounting kits are available for both: the RMK33 for the three rack space Model 5125, and the RMK44 for the four rack space Model 5250. The Model 5125 and the Model 5250 have suggested retail prices of $1800 and $2500, respectively.

The Model 2125 and Model 2250 amplifiers are both THX Ultra2 certified and deliver 125 and 250 watts per channel into 8 ohms, respectively. The Model 2125 delivers 200 watts into 4 ohms, is bridgeable for 400 watts into 4 or 8 ohms, and occupies two rack spaces. The Model 2250 delivers 400 watts into 4 ohms, is bridgeable for 700 watts into 4 or 8 ohms, and occupies three rack spaces. Both models are rack mountable using the two rack space RMK22 for the Model 2125, and the three rack space RMK33 for the Model 2250. The Model 2125,and Model 2250 will have suggested retail prices of $700 and $1200, respectively.
The two-channel Model 275 is capable of 75 watts per channel into 8 ohms, 125 watts per channel into either 4 or 2 ohms, and is bridgeable to deliver 200 watts into a single 4 or 8 ohm load. The amplifier occupies only one rack space when used with the available RMK11 rack mounting kit. The Model 275 will have a suggested retail price of $500.
The Parasound Model 7100 surround controller, and the Model 5125 and 5250 five channel amplifiers are currently available. The Model 2125 and 275 two channel amplifiers will be available at the beginning of March, and the Model 2250 two channel amplifier will be available in April.
About Parasound
Founded in 1981, Parasound Products, Inc., is a privately owned U.S. company that specializes in providing affordable audio and home theater components to the critical listener. Parasound's products are available from quality audio/video retailers, and select custom installation specialists. For more information, visit www.parasound.com or call 415-397-7100.