Paradigm Electronics Announces New Servo-15 v.2 Subwoofer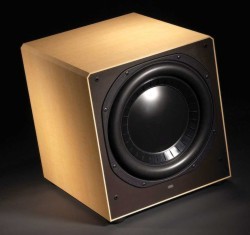 ONTARIO, CANADA - August 6, 2004 - Paradigm® Electronics has updated one of their most popular subwoofers. The new Servo-15 v.2 Subwoofer plays louder and deeper than its predecessor, while preserving the accuracy and ultra-low levels of distortion for which Paradigm Servos are world renowned. With three times the RMS power output of the original Servo-15, the Servo-15 v2 is able to reproduce a staggering 121 dB without distortion and is accurate to an astonishing 10 Hz.
The Servo-15 v.2 features Paradigm's proprietary 15" high-excursion bass driver, boasting in excess of 2 inches of peak-to-peak cone travel promoting incredibly deep bass response with tremendous speed and power. The next-generation mineral-filled co-polymer polypropylene cone, with RCR™ Resonance Control Ribs, is engineered for very high power and very low levels of distortion. The rigid, lightweight design of the 3-inch, 8-layer bifilar aluminum voice coils promote greater stability and support during extended cone travel.
The Servo-15 v2's dual spiders and oversize long-travel suspensions encourage extended cone excursion while maintaining exacting control over cone movement. The massive (29 lb) magnet structures generate an enormous magnetic force field while minimizing inductive distortion. With this in mind, the instrumentation-grade accelerometer is designed to withstand the driver's extreme changes in motion.
Other features on the Servo-15 v.2's driver include a high-pressure, die-cast aluminum chassis, a proprietary voice coil wire guide with UMD™ Ultra-Rigid Mounting Domes, proprietary AVS™ cooling, and a massive extruded aluminum ventilated center heatsink.
The Subwoofer features an all new Ultra-Class D™ Switching Amplifier™ that provides 1200 watts RMS (FTC), 4500 watts Peak power in an optimized, high current, discrete output design with advanced patented servo controller. The novel adaptive PWP power processor minimizes distortion, while the oversize (14 lb) low-noise high-power toroidal isolation transformer ensures prodigious output and ultra-quiet operation through a complete reduction in stray magnetic energy. Opto-coupled inputs offer better isolation and lower noise.
Inputs include both RCA and Balanced. Control facilities include Auto on/off, trigger on/off, subwoofer level control, continuously variable phase control from 0º to 180º and bass contour which allows for up to +6dB boost at 60Hz.
The amplifier's precision components and dual-sided military spec (FR-4 rated) glass/epoxy circuit boards ensure superior performance and long term reliability. The advanced output stage is 10 times faster than conventional Class-D designs for superior efficiency.
Safety features on the amplifier include a proprietary voice coil temperature sensor, an amplifier temperature sensor and short circuit protection which reacts within 10 microseconds.
The Servo-15 v.2 Subwoofer measures 20-1/8 in x 18-1/8 in x 21-1/2 in, weighs 114 pounds and is available in Cherry, Sycamore, Rosenut and Black Ash. MSRP is $2,200. www.paradigm.com
# # #
Innovative design, advanced materials, in-house manufacturing, and state-of-the-art engineering have made Paradigm® an international leader in speaker design. With more than 250 industry awards for audio excellence and numerous rave reviews from around the world, Paradigm is committed to being at the leading edge of speaker technology and consistently achieving the ultimate in sound for music and home theater.