Panasonic Showcases Worlds Largest Plasma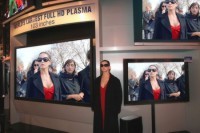 NEW YORK - April 18 - In its latest move to push the limits for superior HD plasma televisions, Panasonic (NYSE: MC - News), the industry leader in plasma manufacturing and sales, is showcasing the world's largest high-definition plasma television at the New York Stock Exchange today. Ramping up for the official ringing of The Closing Bell(SM), Yoshi Yamada, chairman and CEO of Panasonic Corporation of North America will be on site to showcase the big screen, which at 103 inches, can deliver more than two million pixels (1,920 x 1,080) of performance and will complete a full line of superior Panasonic HD plasma televisions for every room size and viewing environment. Panasonic has announced that it will make its super-large screen plasma available to consumers in time for this year's Christmas season.
Among flat panel displays, plasma offers technical advantages, particularly with larger size panels and home theater viewing. For example, whatever the viewing angle, the picture with plasma is always clear, never distorted, and colors are sharp and vivid.
"With Panasonic plasma televisions consistently rated as the industry's best, consumers are looking to us as the standard in plasma technology," said Andrew Nelkin, Vice President of Panasonic's Display Group. "As the demand for larger-screen, high picture quality TVs grows around the world, the new 103-inch plasma answers a need for those looking for the ultimate home viewing experience."
In developing this record-breaking plasma television, Panasonic had to overcome numerous technical challenges to master a panel larger than 100 inches measured diagonally, while maintaining stable discharge and high picture quality across the entire panel surface. The company overcame this hurdle by developing a new rib* and phosphor for these super large panels. The 103-inch 1080p plasma panel, equivalent to four 50-inch panels in size, features consistent and uniform discharge, delivering the same accurate images from the center to every corner of the screen and the same brightness as the current 50-inch HD model (TH-50PX500). The panel incorporates Panasonic's 1080p HD high-speed pixel drive. The same high-speed pixel drive is used in the TH-65PX500 65-inch 1080p Plasma TV, which has been well received in Japan since its introduction last November.
"Since plasma is a self-illuminating device, it offers superior characteristics on several measures including dynamic contrast, true-to-life color reproduction, quick response time for sports and programs with fast- moving images and a wider viewing angle, an important factor for large screen display," said Mr. Hiroyuki Nagano, Director, PDP Device Business Unit of Panasonic AVC Networks Company. "With HD broadcasting service continuing to expand internationally and penetration of HD contents as well as Blu-ray Disc recorders and players, demand will increase for plasma panels."
To meet the expanding worldwide demand for plasma TV, which is expected to top 25 million units in 2010, Panasonic is continually increasing its investment in every area of plasma technology from R & D to manufacturing. The company offers high-definition plasma televisions that include 37-inch, 42- inch, 50-inch, and 65-inch sizes, with suggested retail prices beginning with the 37-inch model at $1,999.95.
Key specifications:

Size (aspect ratio): 103 inches (16:9)

Number of Pixels: 2.07 million (1,920 horizontal x 1,080 vertical)

Pixel Pitch: 3.8'

Effective Viewing Area: Width: 7.5' Height: 4.2' Diagonal: 8.5'

Contrast Ratio: 3000:1

Availability/Pricing: December 2006/To be announced at a later date
About Panasonic Consumer Electronics Company
Based in Secaucus, N.J., Panasonic Consumer Electronics Company is a Division of Panasonic Corporation of North America, the principal North American subsidiary of Matsushita Electric Industrial Co. Ltd. (NYSE: MC - News) and the hub of Panasonic's U.S. marketing, sales, service and R & D operations. Information about Panasonic products is available at www.panasonic.com. Additional company information for journalists is available at www.panasonic.com/pressroom .