Panasonic Launches PT-AX100U LCD Projector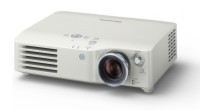 SECAUCUS, N.J. - Sept. 12 - Panasonic Projector Systems Company, Unit of Panasonic Corporation of North America, today announced the introduction of its new PT-AX100U LCD home cinema projector. Designed as an affordable luxury for entertainment enthusiasts who desire a rich home theater viewing experience, the new projector brings Hollywood-level picture quality to home screens in nearly any lighting environment.
The PT-AX100U home theater projector will make its official debut during the Custom Electronic Design and Installation Association (CEDIA) EXPO in Denver, September 14 - 17, 2006, at Panasonic booth, number 333.
The PT-AX100U model produces brighter, more eye-catching images and offers consumers more places to view their favorite home entertainment. The projector's new 220-W UHM(TM) lamp and optical unit combine to generate 2,000-lumen brightness, unprecedented for an LCD projector with at least 720p native resolution(1). It also incorporates Panasonic's new Light Harmonizer image technology, which measures ambient light and adjusts the screen brightness so that images remain bright, crisp and vivid even in well-lit rooms.
"With the proliferation of HDTV and other forms of high-definition content, consumers are taking control of how and where they view their digital entertainment," said Thomas Zitelli, president of Panasonic Projector Systems Company. "Not only are consumers telling us they want to enjoy hi-def sporting events on a bright sunny afternoon, they also want to immerse themselves within the cozy confines of their own home theaters. In addition to being a leading provider of high-definition projectors in the United States, our PT-AX100U LCD projector makes it easy for anyone to relish movie theater-quality entertainment anywhere in their home."
The PT-AX100U projector reproduces Hollywood movies, independent films and other entertainment, including video gaming with exceptional color accuracy. Its new Pure Color Filter uses optical adjustment to achieve more accurate color reproduction, going a step further than conventional projectors that reproduce colors by adjusting the white balance. The new color filter achieves a higher purity level of the three primary colors -- red, green and blue -- displays deeper, purer blacks, and significantly expands the color gamut. In addition, the projector's Cinema Color Management feature helps reproduce images faithful to original film by easily correcting up to approximately 1,070,000,000 colors.
The home cinema projector's Smooth Screen technology uses crystal double refraction to arrange pixels on a screen with no gaps in between them -- producing vivid, smooth images found in commercial movie theaters. The technology also deepens images, enhancing their three dimensional effect for a completely immersive viewer experience. The LCD projector's optical unit incorporates the Dynamic Iris, which adjusts itself, the UHM(TM) lamp and gamma curve(2) 60 times per second to produce beautiful images with a 6,000:1 contrast ratio. The Dynamic Iris also improves sharpness by revealing more detail in both dark and bright images.
Set-up and installation are a snap with the PT-AX100U projector's 2x optical zoom lens and lens shift function, which enables viewers to conveniently place the projector on a coffee table, suspend it from the ceiling, or set it on a bookshelf. The projector can cast a 100-inch image at a range of three to six meters from the screen, and its new, pearl-white color and sleek cabinet design fit well in almost any room decor. The new model's remote control has powerful settings for different types of video such as television sports, home movies or commercial films.
Building upon the PT-AX100U's innovative feature set, Panasonic will also soon announce its next advanced, high-definition home theater projector designed for savvy, home theater enthusiasts and audio-video professionals.
The Panasonic PT-AX100U LCD home cinema projector will be available starting in mid-September at authorized presentation systems dealers. The manufacturer's suggested retail price (MSRP) is $2,999. Please visit www.panasonic.com for more information on local distribution channels and retail outlets.
About Panasonic Projector Systems
Panasonic Projector Systems Company is a prominent supplier of projectors and presentation systems in the United States. It is a unit of Panasonic Corporation of North America, the principal North American subsidiary of Matsushita Electric Industrial Co., Ltd. of Japan, and the hub of its U.S. marketing, sales, service and R & D operations. For more information on Panasonic Projector Systems products, visit the company's Web site at http://www.panasonic.com/projectors .