Panasonic DVD-S97 DVD Player with HDMI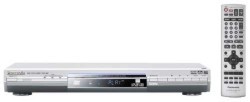 Panasonic recently introduced the new DVD-S97 DVD player. It features a 216MHz/11-bit Video D/A converter and is able to fully transmit the a 13.5MHz video signal guaranteeing that it can deliver crisp edges that give depth and provide a level of definition that brings out every detail. The Panasonic DVD-S97 also boasts resolution upconversion, so when the DVD player is connected to an HDMI compatible monitor, DVD images can be upconverted to 720p or 1080i for output. These converted images have much higher resolution than the 480p images of component output. The result is stunning, high resolution images that are perfect for high definition displays.
Beautiful lines with higher vertical resolution and density are achieved by the Panasonic DVD-S97's use of NTSC progressive scan. Add to this the DCDi technology that is incorporated in the DVD-S97 and the jagged diagonal lines that occur in progressive scan conversion appear seamless. Smoother, more natural lines are achieved making fast action scenes, even on a large screen, appear as they have never done so before.
Not only does the DVD-S97 present crisp visuals, but this player also boasts a level of sound quality never previously experienced with Panasonic DVD players thanks to the use of HDMI technology to transmit digital multi-channel audio. By teaming the DVD-S97 with a digital home receiver such as the Panasonic SA-XR70, it is possible to transmit DVD-Audio, DVD-Video, CD and other format signals via a single cable. Because the signals remain digital as they are processed there is no degradation. This all-digital processing unleashes the enormous potential of DVD-Audio.
The new DVD-S97 boasts another Panasonic first. The advanced Multi re-master function technology (basically an upsampler), due to its interpolation, boosts the data density in CD or DVD signals to reproduce even the high frequency sounds that fall outside the audible range. With a linear PCM source, the sound can be finely adjusted within a range of ±6 db. Add to this the High Definition Compatible Digital encoding and decoding technology, and CD sound quality is enhanced even further. By encoding the 20-bit information into the 16-bit data, HDCD enables 20-bit sound from the DVD-S97.
This powerful combination of features is enhanced further with the DVD-S97's high performance Burr-brown 192-kHz/24-bit audio D/A converter which is used for each channel. This ensures precise, accurate conversion of all digital signals to analogue signals.
The DVD-S97 has an MSRP of $299. For more information, please visit www.panasonic.com .