Panasonic Intros DMP-BDT100 3D Blu-ray Player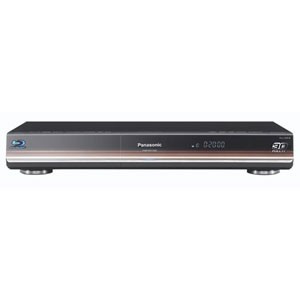 Panasonic DMP-BDT100 BD player
Panasonic announced the expansion of its line of Full HD 3D Blu-ray Disc players to include the DMP-BDT100. The DMP-BDT100, available in August, joins the DMP-BDT300 and DMP-BDT350 in providing superior 2D and 3D picture quality, as well as such innovative features as VIERA CAST internet functionality.  Pricing will be announced at a later date.
The BDT100 continues the commitment to excellence established by the BDT350 which made its US debut at the 2010 Consumer Electronics Show, where it received the esteemed Innovations Award for 3D technology.
"From the beginning, Panasonic has led the way into the 3D era with end-to-end solutions ranging from our critically-acclaimed Full HD 3D VIERA Plasma TVs and 3D Blu-ray Disc Players, to professional 3D camcorders and our work with Hollywood studios on the authoring of Full HD Blu-ray 3D video content," said Richard Simone, Vice President, Panasonic Networking Group. "The addition of the BDT100 3D Blu-ray Disc Player to our line-up marks one of many planned expansions of our 3D offerings designed to give consumers more options and greater access to the immersive world of 3D entertainment for the home."
The BDT100 outputs stunning and immersive Full HD 3D imagery to compatible HD displays. The player also handles a wide variety of audio standards, and upconverts all standard definition video formats to 1080p, the highest-possible video resolution. For nearly 20 years, Panasonic has maintained a base in Hollywood, via Panasonic Hollywood Laboratory, where it has actively studied and created high quality image reproduction technologies in tandem with a number of leading movie studios. Many of the advanced image technologies originally cultivated by Panasonic through this experience are incorporated in the DMP-BDT100. Based on these technologies, the DMP-BDT100 reproduces the ultimate in 3D images, rendering them extremely faithful to the original movies.
In addition to producing superb picture and audio quality, the DMP-BDT100, like the BDT350, also features VIERA CAST, Panasonic's proprietary internet functionality, which brings a variety of streaming services including NETFLIX, Amazon VOD, Pandora, Twitter and YouTube Videos into the living room. Wireless LAN capability*1 eliminates the need to connect a LAN cable, so the DMP-BDT100 can be used without having to worry about the length of the cable.
Users can also watch 2D images (JPEG) and movies (AVCHD/MPEG2) from digital cameras and camcorders via the integrated SD card and USB slot, as well as 3D Content shot by a Panasonic HDC-SDT750 Camcorder.
Ease of use remains a major consumer concern and the BDT100 addresses the issue of boot up time by reducing the time to 0.5-second.
As a green innovation company, Panasonic also focuses on important environmental issues in its production system. For example, the single chip LSI, UniPhier, is used for image signal processing. Unification of this chip helps to lower power consumption and achieve a more compact design (reducing the DMP-BDT100 size by 1-17/32 inches) while also decreasing the burden on the environment by using limited natural resources more efficiently.
For more information on Panasonic's Full HD 3D technology, visit www.panasonic.com/3D.
About Panasonic Consumer Electronics Company
Based in Secaucus, N.J., Panasonic Consumer Electronics Company (PCEC), a market and technology leader in High Definition television, is a Division of Panasonic Corporation of North America, the principal North American subsidiary of Panasonic Corporation (NYSE: PC) and the hub of Panasonic's U.S. marketing, sales, service and R&D operations.  Panasonic is pledged to practice prudent, sustainable use of the earth's natural resources and protect our environment through the company's Eco Ideas programs.  Information about Panasonic products is available at www.panasonic.com.
simongbo posts on August 03, 2010 05:59
11

There are always so many problems occuring when we import avi to imovie and try to play. The videos may have only picture or only sound, or even nothing at all. That is because imovie can only read the avi which has been compressed with the codecs that imovie understands. Thus, we always have to convert avi to imovie when we need to play and edit AVI files to iMovie on Mac OS X. Here I have a good solution for all of you guys avi to imovie converter for mac solve this problem once for all avi to imovie converter is not only a converter but also a video editor for Mac. You can do video trim and video crop etc. Being an easy-to-use tool, avi to imovie mac converter handles the problem with only three steps. Just download the free avi to imovie mac version and install. Import avi files, select output format and starts. The corresponding buttons are comparatively "add files", "format" and "start". converting avi to imovie is just that easy.
Post Reply