OWI Intros Saturn 360 Degree Weatherized Speaker
Saturn 360 weatherized pendant speaker
OWI, Inc., a leading manufacturer of advanced audio equipment for commercial and residential applications, introduces its new Saturn 360 weatherized pendant-style speaker, which delivers 360 degrees of indoor/outdoor dynamic sound for better audio coverage with fewer speakers.
Unlike typical commercial speakers which require a relatively high number of speakers for adequate coverage when broadcasting sound down from a ceiling, the Saturn 360 speaker offers more coverage of high-ceiling retail or residential areas with fewer speakers.
With 5-way sound from a single speaker and 180 degrees dispersion from one 5" woofer and four 1/2" tweeters, the Saturn 360 speaker provides high-quality audio for retail stores, sports bars, restaurants, hotels, atriums, transportation centers, and even high-end homes needing quality sound coverage in high-ceiling or indoor/outdoor areas.  
The attractive pendant speaker, available in black or white, provides sightline continuity for indoor/outdoor applications such as hotel bar/restaurants that transition from outdoor to indoor, along with atriums, verandas, covered patios, covered parking areas and more.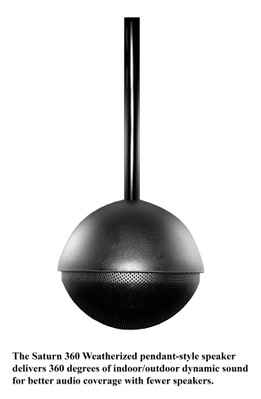 Since the 5-way speaker operates on a selectable 70 Volts and 8-ohms switch, it's suitable for both commercial and residential applications.
With a weatherized casing, grill, bracket, and a 5-year warranty, the speaker is designed to last.  Installation is easy in fixed or free hanging configurations, with custom logos available (in large quantities)  for corporate environments.
About OWI
OWI Incorporated was founded in 1978 as a loudspeaker manufacturer. The company's pioneering lines of outdoor/indoor, weatherized and weatherproof speakers are considered the industry standard. As a company, OWI is dedicated to research and development. This emphasis has led to an expanded product line of award-winning sophisticated audio equipment for the AV integrators, commercial, industrial and residential markets. For more information, call 800-638-1694 toll-free; Fax 310-515-1606; email [email protected]; visit the website at www.owi-inc.com; or write to OWI Inc. at 17141 Kingsview Avenue, Carson, CA  90746  USA.