OtterBox Releases Impact Series Cases for iPhone 4 and HTC EVO 4G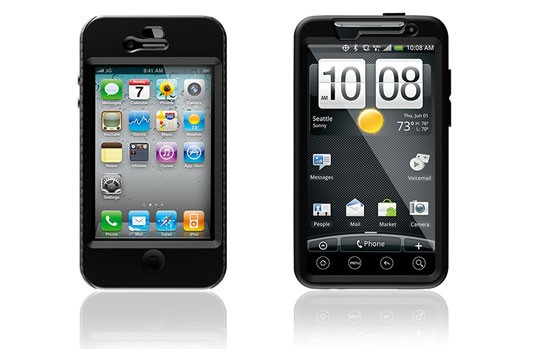 Otterbox Impact Series cases
For record-setting devices like the world's thinnest smartphone or the first 4G device in the United States, OtterBox® offers protection that tops the leaderboard for quality and durability; introducing Impact Series cases for the Apple iPhone 4 and HTC EVO 4G.
"Tech addicts obsess over the sleek design and cutting-edge technology behind the iPhone 4 and EVO 4G, but they also worry about potential damage," OtterBox founder and CEO Curt Richardson said. "Even simple, everyday use can lead to a scratched and scuffed smartphone. OtterBox offers Impact Series cases that mimic the sleek look of these devices while still providing necessary protection."
The OtterBox Impact Series is made from durable compression molded silicone. Inner coring dissipates impact away from the device to protect from bump and shock. A spray coating is applied to the inside and outside of the case to enhance the feel and grip and to resist lint collection, and a self-adhering screen protector is provided to shield the glass displays. A microfiber cleaning cloth and installation card are included to assist with application.
Silicone covers the power, volume and other buttons to keep out dirt and dust while supporting full functionality. Open access is provided for all other features and users are able to charge and sync through the case.
The addition of the Impact Series case completes the lineup of protective solutions from OtterBox for the iPhone 4. Commuter Series® and Defender Series® cases are already selling quickly at www.otterbox.com. Commuter Series cases are also available for the HTC EVO 4G, and Defender Series cases will be coming soon.
Additional Information for OtterBox Impact Series case for Apple iPhone 4:
Features:
Bump and shock protection

Dimensions (iPhone 4): 4.74" (120.4 mm) x 2.54" (64.6 mm) x 0.59" (15.1 mm)

Weight (iPhone 4): 2.43 oz (68.9 g)         

Dimensions (EVO): 5.00" (127.11 mm) x 2.84" (72.04 mm) x 0.71" (18.15 mm)

Weight (EVO): 1.24 oz (35 g)
For more information, visit www.otterbox.com.
About OtterBox
Built upon fundamentals of hard work, innovation and perseverance, OtterBox is the leader in the production or premier protective solutions for global handheld manufactures, wireless carriers and distributors. Incorporating creativity and cutting-edge design into every product, OtterBox creates sleek and durable cases that offer reliable device protection to complement any lifestyle. OtterBox was founded in 1998 and is headquartered in Fort Collins, Colo.