OtterBox Releases Commuter Series Case for Apple iPhone 4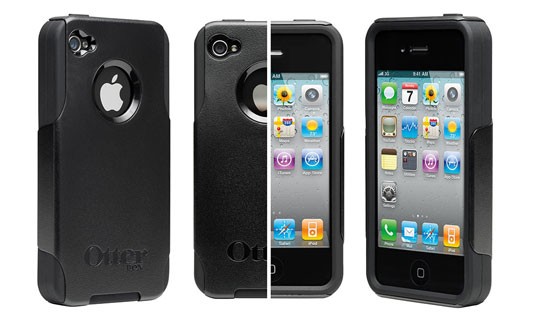 OtterBox Commuter Series Case for Apple iPhone 4
Hot on the heels of the highly-anticipated release of Defender Series cases, OtterBox announced protection in a fresh new design with the Commuter Series for the Apple iPhone 4. This is the second of three newly announced cases from the company that blend stylie and protection into a package that can appeal to just about anyone.
The OtterBox Commuter Series offers three sleek layers of security to complement the iPhone 4's thin design. First, a self-adhering screen protector keeps the Multi-Touch display screen safe from scratches. Next, a silicone mid-layer absorbs shock, keeping the glass panels safe from bumps and shock. Finally, a polycarbonate shell provides added strength and helps the device slide easily in and out of a pocket or purse. The Commuter Series offers coverage for the iPhone 4 power button, volume rocker and home button, while silicone plugs for the charging port and headphone jack keep out dust and dirt but flip open for easy access.
Included with each Commuter Series case is a microfiber cleaning cloth and installation card for smooth application of the screen protector.
The Commuter Series cases from OtterBox give the Apple iPhone 4 fresh and stylish protection. Or, if you're looking for extra-rugged protection, the OtterBox Defender Series safeguards against all of life's mishaps. A thinner, lighter, Impact Series silicone case is also coming soon.
Specs:

Environmental Protection: Bump and shock

Dimensions: 4.73" x 2.50" x 0.55"

Weight: 0.96 oz (28 g)

About OtterBox
Built upon fundamentals of hard work, innovation and perseverance, OtterBox is a leader in the production of premier protective solutions for global handheld manufacturers, wireless carriers and distributors. Incorporating creativity and cutting-edge design into every product, OtterBox creates sleek and durable cases that offer reliable device protection to complement any lifestyle. OtterBox was founded in 1998 and is headquartered in Fort Collins, Colo. For more information, visit www.otterbox.com.
sykeslise posts on August 23, 2010 09:59
wow, if found mine at - www,youtube.com/watch?v=BzCCv9pwbTQ

this is an awesome accessory too!
Post Reply