Onkyo's New LS-V955 Integrated DVD Player /Receiver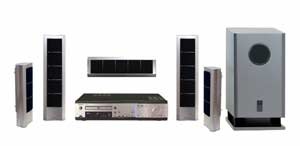 UPPER SADDLE RIVER, NJ (4/26/04) - Onkyo has introduced an easy-to-use and attractive home theater system that adds stunning DVD video and multichannel surround sound to any TV in minutes. The LS-V955 system consists of a one-piece integrated 40-Watt per channel surround receiver and progressive-scan DVD player, 150-Watt powered subwoofer, and five stylish aluminum speakers designed to complement any video display.
The Onkyo LS-V955's elegant one-piece DVD receiver features progressive-scan component video as well as composite and S-video, and standard A/V outputs for optimum compatibility with existing televisions. Built-in Dolby Digital, Dolby ProLogic II and DTS decoders deliver 5.1-channel audio to the included speaker/subwoofer package for clear, dynamic sound effects and a multichannel soundstage that immerses viewers in the movie. The player is also compatible with CDs, CD-R/RWs, and even MP3-encoded discs, making the LS-V955 versatile and impressive as both an audio and home theater system.
The included six-speaker surround system includes slim extruded aluminum two-way front and surround satellites, a two-way horizontal center channel, and a 150-watt powered subwoofer for deep bass reproduction. The front left, right and center channel speakers each have a pair of 3-1/8 inch cone woofers flanking a 1-inch balanced dome tweeter, while the rear surround speakers employ a single woofer and tweeter. All of the speakers are magnetically shielded to prevent interference with video displays.
Color-coded terminals and intuitive design makes setup and operation of the LS-V955 simple and fast. The receiver includes enough connections for up to four additional components such as VCR, cable or satellite, and tape loop, making it an ideal centerpiece for a home entertainment system. The unit also features a built-in FM/AM tuner with 30 presets.
The LS-V955 includes a full-function preprogrammed/learning remote control that can be used to operate all the components in a home entertainment system, eliminating the "remote clutter" that plagues most entertainment systems.
The Onkyo LS-V955 integrated home theater system is now available with a suggested retail price of $1000.
Onkyo, which means 'audio' or 'sound' in Japanese, has been producing precision audio components for over a half-century. The company's philosophy is to deliver products that are superbly designed and built to a consistently outstanding standard of excellence. Today, Onkyo is at the forefront of the home theater and digital revolutions. For more information about this and other fine Onkyo products, visit www.onkyousa.com or call 800-229-1687.
# # #
Onkyo USA
18 Park Way
Upper Saddle River, NJ 07450
(800) 229-1687