Onkyo TX-NR901 Receiver Gets Net-Tune & Component Video Upconversion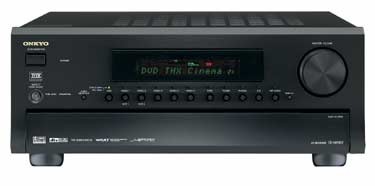 UPPER SADDLE RIVER, NJ (10/28/03) - Onkyo has announced dealer shipments of its TX-NR901 THX Select A/V receiver, featuring 7 x 110-Watts, Net-Tune™ functionality to play streaming MP3 files via Ethernet, upconversion of both composite and S-Video to component video, and a new RF (Radio Frequency) and IR capable remote control. With processing for every major home theater sound format currently in use, and quality HDTV capable component video switching, and the company's Powered Zone 2 capability, the TX-NR901 is one of the most versatile and powerful entertainment system centerpieces available today.
The TX-NR901 includes onboard processing for THX Surround EX 7.1, Dolby Digital EX and Dolby ProLogic II, DTS-ES, DTS Neo:6, and DTS 96/24 surround sound formats. High quality 192 kHz/24-bit Linear PCM D/A converters are used for digital processing on all channels except the rear surrounds, and the company's exclusive Wide Rage Amplifier Technology (WRAT) provides clean, linear power with an extended frequency response of 10 Hz - 100 kHz. For analog sources, the receiver features Onkyo's Pure Audio function, which bypasses all digital processing to preserve the purity of analog audio signals.
The TX-NR901 includes an elegant new aluminum-face universal/learning remote control with an LCD display screen, Jog dial for menu easy navigation, and the ability to control every component in a full home theater system. The remote is capable of RF transmission, and when combined with Onkyo's optionally available RFR-6, can control components at a much greater range, and even through walls and cabinetry.
Onkyo's exclusive Net-Tune capability uses a standard TCP/IP Ethernet connection to unite the receiver with MP3 and Windows Media Audio (WMA) files stored on a home PC, or to play Internet radio streams via a networked broadband Internet connection. The receiver's on-screen display shows song title, artist, album, genre, and playlist information, making the entire family's music collection easy to store and access, without the clutter of CDs and their cases. Not even a CD jukebox can hold so much music, and deliver it so quickly and easily.
As the centerpiece of a complete digital entertainment network, the TX-NR901 features a broad suite of connectivity options and features. HDTV capable 50 MHz component video switching, and conversion of both Composite and S-Video signals to component video simplifies connection to a TV or projector, eliminating the need for redundant multiple video connections. There are a total of eight digital inputs, including one on the front panel, and two digital outputs, as well as full 7.1-channel pre-outs for use with additional external amplification.
There is also a wide array of multizone features, such as Onkyo's Powered Zone 2 that provides the ability to drive a set of stereo speakers in another room using the rear surround channel amplifiers, or using an external power amplifier. An On-Screen display provides control of all settings as well as access to network digital media playlists.
The Onkyo TX-NR901 is currently available at a suggested retail price of $1,500.
For more information on this and other fine Onkyo products, visit www.onkyousa.com or call 800 229-1687.
# # #
TX-NR901 Features
110 W/Ch x 7 into 8 Ohms (20Hz-20kHz)

Powered Zone 2 Capability

Ethernet Port for Net Tune Audio

8 Digital Inputs (5 Optical/3 Coaxial)

THX Surround EX 7.1

HDTV-capable Component-Video switching (50 MHz, 2 inputs/1 output)

Dolby Digital EX, Dolby Pro Logic II

DTS-ES, DTS 96/24 and Neo:6

2 Optical Digital Outputs

Pure Audio Mode

Composite and S-Video to Component Video Conversion

Non-Scaling Configuration

192 kHz/24-bit Linear PCM DACs for L/R/C/SW/SL/SR Channels

Adjustable SW Crossover (40/60/80/100/120/150 Hz)

MP3 and WMA (Windows Media Audio) Decoding

RF capable Aluminum Faced Remote with Jog Dial and LCD Display