Onkyo TX-NR1000 THX Ultra2 Card-Based Receiver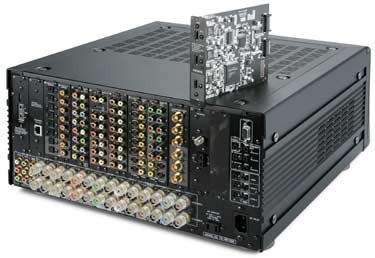 LAS VEGAS, (1/8/04) -- In an age when home entertainment technology is often out of date as soon as it is introduced, Onkyo has now adapted the computer industry's architecture of replaceable modules, upgradeable software, and build-to-order marketing. These will make it possible for consumers to upgrade and even customize hardware and software to avoid short-term obsolescence. As new modules become available, customers will have choices, just as they do when purchasing a computer.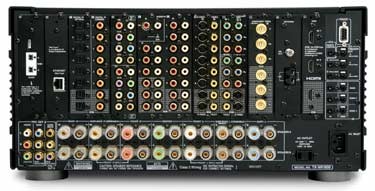 "Four years ago, Onkyo introduced the world's first software-upgradeable home theater receiver," said Don Milks, the company's national product & marketing manager. "Since then thousands of owners have been able to keep current with the latest surround technologies from Dolby, DTS, and THX. Now, with the TX-NR1000, we add the ability to upgrade hardware, but we will also be able to add brand new capabilities such as high-tech broadcast reception, advanced networking, processing circuits, and interface standards that don't yet exist."
Today Onkyo is announcing the TX-NR1000 THX Ultra2 Network AV receiver with its key audio and video processing and interface features provided on plug-in circuit modules. Now consumers will be able to take advantage of future technologies by replacing a card instead of the entire receiver. The first new modules are scheduled for the Fall of 2004 with anticipated upgrades for new radio technology and for video interface sections. Of course Onkyo will also continue to provide appropriate software upgrades.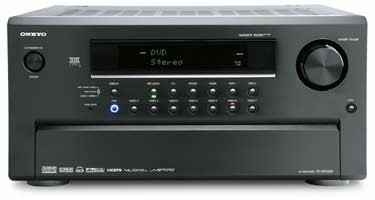 The first-production TX-NR1000s will also include two features new to home theater receivers. The first are a pair of iLink(TM) digital inputs that allow bit-for-bit digital transfer of DVD-Audio and SACD audio without violating copy-protection controls. The second is a high quality audio and video HDMI high definition multimedia interface with two inputs and one output for compatibility with the DVI digital video interface found on the newest high-end AV components.
As would be expected of a top of the line receiver, the Onkyo TX-NR1000 is THX Ultra2 certified, with 150 watts of power for each of the seven channels driving 8-ohm speakers. It has all the current THX, Dolby, and DTS processing modes, including Dolby Pro Logic IIx. The receiver has excellent build-quality and uses premium parts throughout, including state-of-the-art Wolfson 192 kHz/24-bit D/A converters for all channels.
The receiver can also be connected to a personal computer network (TCP/IP) via a rear-panel Ethernet port, and uses an included Onkyo Net-Tune(TM) client processor to access MP3 and WMA digital music files stored on a networked PC or to play Internet radio through a networked broadband connection. Up to 11 other Net-Tune(TM) client receivers can run simultaneously on the same network.
The Onkyo TX-NR1000 offers a remarkable level of compatibility and connectivity with more audio/video and audio-only inputs and outputs than almost any home system could ever need. In addition to the iLink(TM) and HDMI connections, there are optical and coaxial digital audio inputs and outputs, RCA stereo inputs and outputs, a phono input, and component, S-video, and composite video connections. The TX-NR1000 also has composite and S-Video upsampling to component video, which greatly simplifies switching and connections when mixing video source components from different generations.
All seven amplifier channels use Onkyo's exclusive WRAT Wide Range Amplifier Technology to provide the 5 Hz to 100-kHz bandwidth called for by today's wide-band audio modes. It has two complete seven-speaker sets of banana plug speaker terminals for two complete systems or for bi-wiring. The receiver has three-zone capability, five 12-volt triggers, three IR outputs, and a bi-directional RS-232 port for software upgrades and connection to home automation systems.
The Onkyo TX-NR1000 will be available in April, with a suggested retail price of $4000.
Onkyo, which means 'audio' or 'sound' in Japanese, has been producing precision audio components for over a half-century. The company's philosophy is to deliver products that are superbly designed and built to a consistently outstanding standard of excellence. Today, Onkyo is at the forefront of the home theater and digital revolutions. For more information about Onkyo products, visit www.onkyousa.com or call 800-229-1687.
Onkyo TX-NR1000 Features

Amplification

THX Ultra2 Certified 7ch Amplifier
150 Watts for All Channel @ 8W (FTC)
WRAT-Wide Range Amplifier Technology
(5 Hz-100 kHz bandwidth)
Linear Optimum Gain Volume Circuitry

Processing

THX Surround EX 7.1 Processing
Dolby Digital EX and Pro Logic IIx
DTS and DTS-ES, DTS Neo:6, DTS 96/24
Dolby Headphone and Dolby Virtual Speaker
Dual 32-Bit DSP Chips for Main and Zone 2
VLSC-Vector Linear Shaping Circuitry
Non-Scaling Configuration
PC Set-up Application Available for Net-Tune
A-Form--Auto Format Sensing
IntelliVolume Input Calibration System
Wolfson 192 kHz/24-bit D/A Converters for All Channels
Composite and S-Video Upconversion to Component Video and to HDMI

Connections

High Quality Audio & Video HDMI (2 Inputs/1 Output)
IEEE1394 Digital Input for DVD-Audio and SA-CD
Zone 2 and Zone 3 Capability
Ethernet Port for Net-Tune(TM)
Bi-Directional RS-232 Terminal
5 12V DC Trigger Outputs and 3 IR Out
Speaker A and B mode for 7.1-Ch
BTL and Bi-Wiring Connectable for FL/FR with SBR/SBL
13 Digital Inputs (7 Optical/6 Coaxial/12 Assignable)
Front Panel Optical, S-Video & A/V Inputs
4 Digital Outputs (2 Optical/2 Coaxial/4 Assignable)
4 Component Inputs (4 Assignable) /
2 Outputs (2 Assignable)
Color-Coded Multi-Channel Inputs and 7.1-Ch Pre Outs
High Quality Transparent Dual Banana Plug Speaker Posts

Miscellaneous

Individual Crossover Adjustment (40-150 Hz, 10 Hz Steps)
Rigid Aluminum Panel (Front / Side / Top) and Bar Type Stabilizer
Elegant Aluminum Faced Remote Control with Scroll Wheel and LCD Display