Onkyo's iPhone Receiver Remote Control App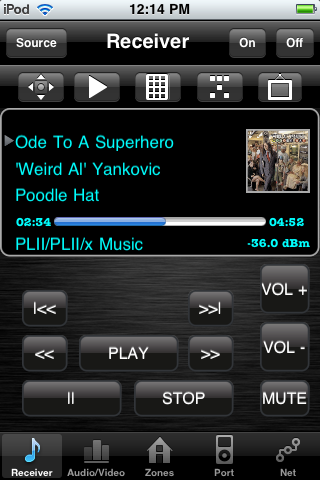 Onkyo iPhone app
Onkyo is announcing that it will launch a free iPhone/iTouch-compatible Remote Control App for its Networked AV receivers at the end of January 2011. The Onkyo Remote Control App will turn any iPhone or iTouch into a versatile, fully-functional, touch-driven wireless remote control that will integrate seamlessly with Onkyo's upcoming range of next generation Networked AV receivers, as well as many current and older networked models.
The App will replicate day-to-day operations such as altering volume/balance/mute/input selection/listening modes etc. Gesture control will also be incorporated and owners will be able to browse Internet Radio station lists as well as content held on NAS (Network Attached Storage) devices.
The App will offer full control of most of the functionality on Onkyo's upcoming next generation AV receivers (launching in 2011) as well as much of the functionality on current xxx8 series AV receivers. Owners of xxx7 series and older AV receivers will be able to use the App to control basic receiver functions such as volume up/down, changing inputs etc.
Compatible Onkyo AV receivers will need to be connected to a wireless router via Ethernet. Further details about the Onkyo Remote Control App for iPhone/iTouch will be released in early 2011.
About Onkyo
Since 1946 Onkyo has been passionately committed to developing audio products that deliver uncommon performance, quality and value. Bundling proprietary technologies and innovations with other sound-enhancing exclusives, Onkyo continues to created award winning products that are lauded by many of the industry leading audio publications. The company's philosophy is to deliver products that are superbly designed and built to a consistently outstanding standard of excellence. Today, Onkyo is at the forefront of the home theater and digital revolutions. For more information about this and other fine Onkyo products, visit www.onkyousa.com or call 800-229-1687.
rworne posts on January 06, 2011 20:36
Warpdrv, post: 779144
I'll post a link for ya buddy..

Really makes me wish that Anthem D2v had an Ethernet connection and IP address….
I just announced a new feature this evening. Unlike Onkyo's app, I'm working to support as many AVRs as possible. It now works via the AVR's RS-232 port with no wires. You need to buy an adapter box and attach it to the AVR to get it to work, but if someone is really attached to their 4 or 5 year old equipment, this will help.
rworne posts on January 06, 2011 07:15
BoredSysAdmin, post: 779147
Imo Onkyo did announced about development of similar app to oRemote or simple purchase and rebranding. If AH did used oRemote screenshot without mentioning it or it's the one provided by Onkyo if they are going to rebrand oRemote - I don't know
That's the point. If they were planning on rebranding oRemote, I would know about it, wouldn't I? The only contact I had with Onkyo are the bug reports I've filed regarding their network protocol.
There are two other Onkyo-compatible apps on the App store, perhaps it is one of those?
Radio Flyer posts on January 06, 2011 03:41
How much better sound quality would you get using an Onkyo AV and their app compared to running my av to the computer and using ITunes remote from the ITouch?
BoredSysAdmin posts on January 05, 2011 10:46
rworne, post: 779055
That's not Onkyo's app. The App is called oRemote and I am the developer of it. It is a remote control App for Onkyo AVRs, but it was independently developed. I'd post a link for it, but I'm not allowed. Look for "ORemote" on facebook.
Imo Onkyo did announced about development of similar app to oRemote or simple purchase and rebranding.
If
AH did used oRemote screenshot without mentioning it or it's the one provided by Onkyo if they are going to rebrand oRemote - I don't know
Warpdrv posts on January 05, 2011 10:32
Post Reply