OmniMount LEDP75 Full Motion Flat Panel TV Mount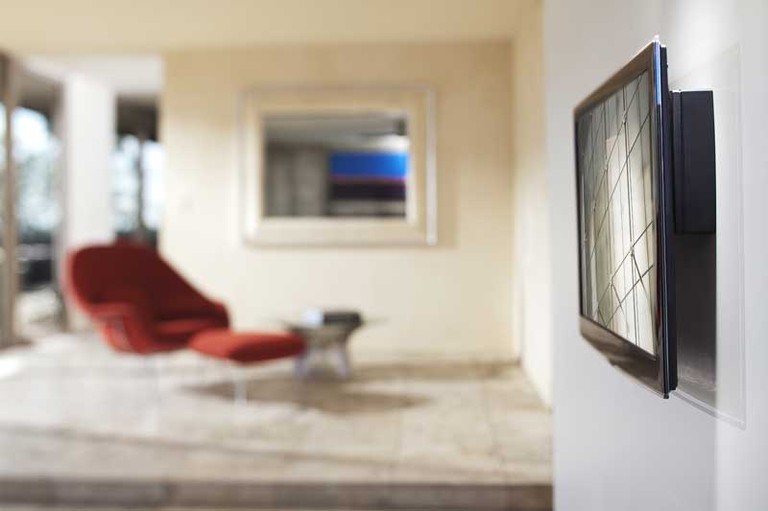 OmniMount LEDP75 Full Motion TV Mount
OmniMount announced the launch of its LED Series — the next generation of mounting solutions. Built from aircraft-grade materials, engineered with patent-pending technology and offering super thin profiles, these full motion mounts and suspension systems are designed specifically for newer, lightweight LED, LCD, Plasma and 3D TVs.
As a leader in the industry, OmniMount is always on the cutting-edge of A/V trends and technology. And with the explosion of LED TVs, it's only natural that there exists a line of products to support this emerging technology. As flat panels become lighter, other key attributes such as technology, profile, aesthetics and sustainability have become more and more important. The same holds true for the mounts. The LED Series is designed with innovation like Dual-Mode Installation, ArmGlide and Suspension System technology, none of which are offered by other brands. Flush-to-wall profiles and premium aircraft-grade materials complement newer TVs in looks, style and functionality. To top it off, all this is delivered in products and packaging that conserves nature's resources and promotes eco-friendly living.
The LEDP75 is a full motion mount built to fit any LED, LCD, Plasma or 3D TV up to 75 lbs, and the only one that offers Dual-Mode Installation for low profile on-wall mounting or flush in-wall mounting. The ability to be installed on-wall or in-wall is a direct result of this mount being designed with its own housing for a completely self-contained solution. Mounted on-wall, the mount is fully enclosed in the casing for a very clean appearance. Mounted in-wall, the casing acts as a recessed box and allows for a completely flush installation. And since the arm nests completely inside the casing, mounting profiles are kept to an absolute minimum on wall, and non-existent in-wall. Another breakthrough feature on the LEDP75 is that in addition to traditional tilt, pan, and swivel, it also offers ArmGlide, allowing for 11.35" of lateral arm travel for perfect TV placement and uncompromised viewing. A brushed and anodized extruded aluminum finish offers both strength and style that will complement any flat panel. No other mount offers this type of versatility in installation, functionality or aesthetic appeal.
Designed with aircraft-grade cable and aluminum alloy, the LEDW60 and LEDW120 combine industrial strength materials to create a truly breakthrough Suspension System mount, bringing quick, safe and flush-to-the-wall mounting to any consumer. The Suspension System design of these mounts hangs TVs just like a picture frame, and the TPR™ grips minimize panel shifting. And once the TV is mounted, the built-in kickstand supports the flat panel base away from the wall for hassle-free wiring. There's a mount to fit any size TV and each includes a complete universal hardware kit plus multiple suspension cables. Use the LEDW60 to support flat panels from 23" to 55" up to 60 lbs and the LEDW120 to support flat panels from 42" to 75" up to 120 lbs. While these products were designed because of a need to support LED technology, which is traditionally very lightweight, they're crafted from the strongest material offered in flat panel mounting to date. While the flat panels supported by these products will never be heavy enough to test their strength, they're rated to hold loads at least four times their published rating without fail. Tested at 240 lbs and 480 lbs respectively, consumers can be assured that these products are keeping their high-end flat panels as secure as they can be.
"Bringing this new LED Series to market is a testament to our commitment to innovation in design and environmentally-focused product development," said Alex Robertson, the senior vice president of sales and marketing for OmniMount. "The future of LED TV mounting design is thinner, smaller and stronger mounts — and whilst we have made serious headway with this series of products, we will continue to push the envelope in creative mounting solutions."
Though they were created with LED TVs in mind, it's important to note that the entire LED Series is compatible with LCD, Plasma and 3D TVs as well. As with all OmniMount flat panel mounts, these products are set at aggressive price points, for such high quality and inventive designs. The LEDP75, LEDW120 and LEDW60 are offered at an MSRP of $249.95, $149.95 and $99.95 respectively. Designed and engineered in the USA, these revolutionary mounts are currently available and shipping.
For more information about OmniMount, visit www.omnimount.com. If you'd like to connect with OmniMount on popular social networking sites, follow on Twitter, 'like' us on Facebook and watch the latest videos on YouTube.
About OmniMount
OmniMount is a global leader in the design and manufacturing of A/V mounting and furniture solutions for residential home entertainment and commercial applications. A perennial innovator, OmniMount has set industry standards for over three decades with groundbreaking in-house design and engineering, premium quality and unsurpassed reliability. Whether it's a small speaker, a large flat panel display, or anything in between, OmniMount has the right mounting solution for every job. Based in Phoenix, OmniMount currently is represented in more than 67 countries.
leousm posts on September 17, 2010 12:49
Perfect for the bedroom
Post Reply