Olive O3HD Music Server Announced at $999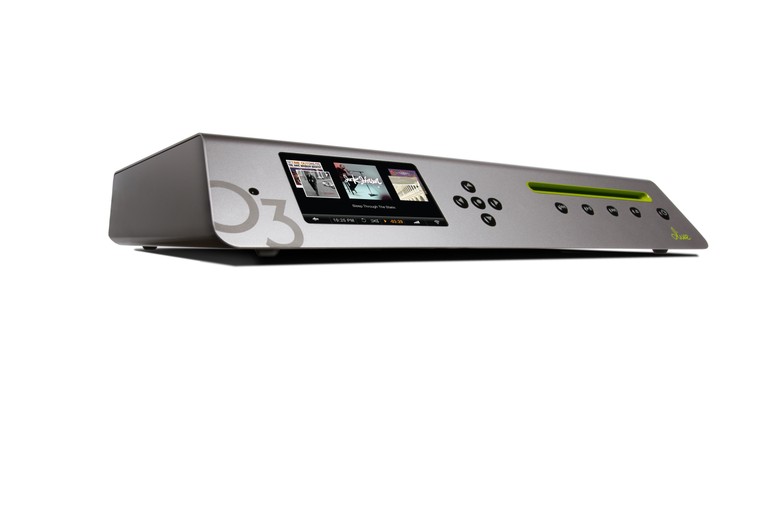 Olive O3HD Music Server
HD Music Server manufacturer Olive Media Inc. today announced the Olive O3HD music server for home stereo systems. Based on the award-winning Olive O4HD, which Sound + Vision Magazine calls "a revolutionary step for the music server category," the O3HD brings the best blend of simplicity and quality. Now, music lovers can enjoy their digital music collection at home at a price point well below other comparable solutions. Designed as a hassle-free, standalone solution, the O3HD requires no software installation, networking setup or virus protection. It features a dedicated storage and color touchscreen navigation, allowing you to store and access your complete music collection right at your stereo system. A 24-bit/192 kHz DAC delivers your music with superior sound quality. All this comes at a breakthrough price of just $999.
"Olive wants music lovers to enjoy the convenience of digital music without having to sacrifice audio quality. The new Olive O3HD is the first dedicated music server with full HD capability to sell for only $999. Now more people can enjoy this outstanding music experience than ever before."
- Dr. Oliver Bergmann, co-founder and CEO of Olive
Music lovers also no longer need to worry about the headaches that are inherent with most digital audio solutions that stream music from a PC, Mac or NAS. The new Olive O3HD stores your music collection right at your stereo system, so networking problems are a concern of the past. The 24-bit DAC with 192 kHz up-sampling delivers your music in a quality that has never been heard before on a product in this price category. Olive even has a free mobile application that will turn your iPhone™ or iPad™ into an Olive remote control.
Additional highlights of the new Olive O3HD include:
Color Touchscreen Simplicity: Once the O3HD is plugged into your home stereo system, you can easily start navigating through your entire music collection using Olive's revolutionary touchscreen technology. The intuitive user interface allows you to conveniently browse your music collection, create playlists of your favorite tracks, or search specific music. An innovative album cover view sorts all your albums with a flick of your finger.

Ample Music Storage: Designed for music lovers with large music collections, the O3HD stores up to 1,500 CDs or 5,000 HD songs in a box no bigger than a standard CD player. To ease the transition, Olive offers a convenient CD Loading Service to load your entire music collection on your O3HD for instant enjoyment. Olive uploads the first hundred of your CDs for free.

HD Sound Meets Luxury Design: The new O3HD stores and plays music with lossless compression (FLAC) to deliver an amazing sound quality far greater than MP3 files. It supports playback of 24-bit HD music tracks, featuring a premium 24-bit DAC with 192kHz up-sampling for superior sound quality. The O3HD's beautiful design has been optimized for sonic performance, featuring fan-less cooling and ultra-quiet hard drives with multi-layer cushioning.

Over 3,000 Radio Stations: Olive World Radio delivers instant access to the best internet radio stations from around the world. All stations are hand-selected and groomed by Olive to deliver accurate station information, allowing you to quickly browse and find stations with a wide range of search criteria. The internet radio comes free on all Olive HD Music Servers and Multi-Room Players.

Free Apple iPhone/iPad Remote Control App: The Olive App turns your iPhone/iPad into a touchscreen remote control. Conveniently browse your music collection, create playlists or access different rooms, all from the comfort of your couch.
Pricing & Availability

The Olive O3HD Music Server is available in the US directly from Olive (www.olive.us; 1.877.296.5483) for $999. Olive is available worldwide through a network of authorized distributors.
For more information, visit the Olive 03HD Product Page
About Olive Media Products
Based in San Francisco, Olive brings the ease and accessibility of digital music to your home stereo system, without sacrificing sound quality. Led by a team of music lovers, Olive makes the world's toprated HD Music Servers and Multi-Room Players that deliver a music experience without compromise. Engineered for High Definition audio Olive employs state-of-the-art 24-bit DAC designs and only the best in high-performance analog audio components. Adding a convenient touchscreen interface, a beautiful industrial design, and a compelling value has resulted in several hundred press awards since the launch of the first Olive music server in 2005. For more information, please visit www.olive.us.
rdrumr posts on April 10, 2011 19:57
I agree, what were you using as a build list?
gliz posts on September 15, 2010 14:33
Perhaps someone can straighten me out on this, but I can build something like this for about $350, so what is the allure here?
Post Reply