Oakley Thump MP3 Player Sunglasses!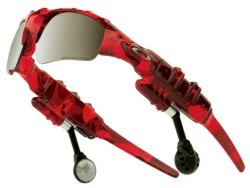 Introducing OAKLEY THUMP™, the world's first digital audio eyewear. The revolutionary design seamlessly integrates a music player and earphones right into the frame. That means no more wires. Just high performance optics forged with a state-of-the-art digital audio engine. Listen to music virtually anywhere. OAKLEY THUMP will change the way you see and hear the world.
Your ears are on your head, so why should your music system hang on your waist? OAKLEY THUMP shatters the block-and-cord design that hasn't changed since portable players were invented 25 years ago. It gives the wearer complete freedom to enjoy music during activities where tethered players with cords and separate base units can be cumbersome, or even dangerous.
Oakley went a step further and engineered the earphones and lenses with flip-up mechanisms so they can be disengaged and re-engaged instantly. That makes it practical to carry on a conversation, grab a call, or listen to music indoors. All this technology weighs less than 1.9 ounces, so you get all-day comfort.
State-of-the-art fidelity. The integrated electronics feature a 75MHz Digital Signal Processor, custom engineered to get premium sound out of compressed MP3 and WMA song files. An 18-bit Sigma Delta DAC (Digital-to-Analog Converter) is optimized for acoustically pure audio with a signal-to noise ratio of greater than 87dB. Sound processing includes anti-pop algorithms and short-circuit protection for extra clarity. Mylar sonic expansion speakers pump out a full range of frequency response, up to the 20 kHz limit of human hearing. All that adds up to true-sounding audio with stunning fidelity.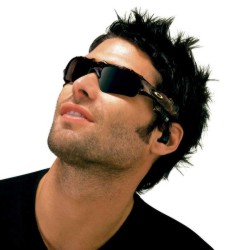 Advanced cranial hardware. OAKLEY THUMP lets you control the mix of music vs. environment. The speakers are mounted on miniature extendible booms for precise positioning, and they pivot away so you can listen to a conversation or grab a call. They flip back down instantly so you won't miss a beat. No more fighting with wires or shoving things into your ears.
Optical overkill. All this technology is integrated into world-class eyewear sculpture. Patented XYZ Optics® maximizes visual clarity, even at the sides of raked-back lens contours. Plutonite® lens material blocks 100% of all UV and harmful blue light, and polarization and Iridium® lens coatings cut glare and optimize vision.
Control at your fingertips. No more digging into your pocket or fumbling with a wired remote to find a button. All controls blend seamlessly into the frame geometry, and we put them where you can find them instantly.
Six-hour battery life. A specially designed lithium ion polymer cell minimizes weight and provides up to six hours of continuous music. For the ultimate in convenience, charging can be done through the USB cable or an optional external charger. (Optional accessories include a Car Charger and a World Wall Charger with four adapter plugs for international travel).
Compatibility. Right out of the box, OAKLEY THUMP works with most Mac and Windows PCs. No set-up required. No software to install. Pick either platform - or both. And use whatever music jukebox program you want. MusicMatch, Windows Media Player, whatever. OAKLEY THUMP is the world's first cross-platform, plug-and-play digital music eyewear.
Lighting file transfer. OAKLEY THUMP comes with a USB 2.0 cable for connecting to your computer. USB 2.0 is optimized for speed, so copying a full 120- song jam takes no time at all. And it couldn't be simpler. When you connect OAKLEY THUMP to your computer, it shows up on your desktop. All you do is move song files - MP3, WMA or WAV format - with a simple drag and drop.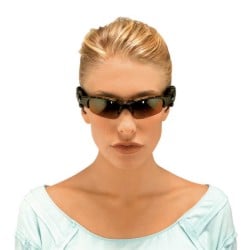 Definitive sculpture. OAKLEY THUMP is science wrapped in art. 3-D CAD/CAM engineering has created a world-class eyewear sculpture. Five color options will initially be available: Matte Black, Rootbeer, Tortoise, White Camo and Black Camo. Red Camo will be available in a limited edition.
Digital cargo. Use OAKLEY THUMP to store and transport computer files. While you're playing your favorite tunes, you can haul virtually any kind of data. Transfer the files to another computer with the fast USB connection. Or use OAKLEY THUMP to backup critical files from work and keep them safe in your brainframe.
OAKLEY THUMP will be available in Circuit City stores nationwide for the December holiday season and will be offered also by Oakley's own O Stores®, online at oakley.com, and through limited specialty retailers. Distribution is expected to further expand in 2005, including a global introduction through Oakley's international offices.
The suggested retail price of OAKLEY THUMP is US$395.00 for the 128 MB memory version and US$495.00 for the 256 MB version with Oakley's premium lens polarization technology.
1 Polarized lenses available only on 256 MB models.
2 Battery life depends on volume level, song compression rate and other factors.
3 Capacity based on 256 MB model, 64 kbps WMA compression rate and average song length of 4 minutes.
MP3 format and alternative compression rates are supported.