Niles DS Directed Soundfield Ceiling-Mount Loudspeakers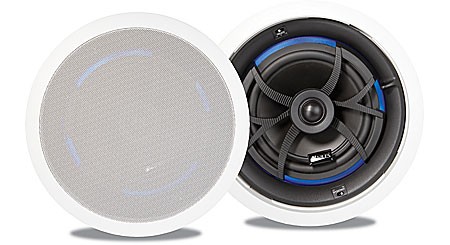 Niles 3rd-gen DS Directed Speakers
Niles Audio Corporation has introduced the third generation of its DS Directed Soundfield Ceiling-Mount Loudspeaker line, offering custom installers a loudspeaker solution with a winning combination of high design aesthetics, advanced technology and ease of installation. Niles' DS Directed Soundfield Ceiling-Mount Loudspeakers discreetly blend into any environment thanks to the loudspeakers' paintable, low-profile, magnetically-attached grilles while delivering high performance sound quality and installation flexibility by utilizing Niles' patented pivoting tweeter and woofer technologies.
"The third generation of our acclaimed Directed Soundfield loudspeakers address the challenges today's custom installation professionals face by combining the ability to tastefully blend into any environment with advanced engineering and installation versatility," said Mike Detmer, president of Niles Audio Corporation. "The new series is built around the same architecture that made the original an industry staple, and we've incorporated several new significant features to provide installers with a perfect ceiling mount loudspeaker for any application."
The DS Directed Soundfield Ceiling Mount loudspeakers' thin-bezel, ultra-low profile grilles are magnetically attached, providing a crisp, clean finish and greatly reducing installation time. For installation flexibility, the series includes both round and square grille options, both of which can be painted to coordinate with any surrounding décor. The grilles are also rust-resistant, eliminating service calls for loudspeakers installed in moisture-prone areas such as saunas, bathrooms and even outside, under eaves.
Niles' patent-pending spring-loaded mounting clamps compensate for number of environmental conditions that would cause a mounting surface to expand or contract, such as high heat and humidity. The spring-loaded mounting clamps also provide tactile feedback during the installation process to indicate when the installer should stop drilling, helping to prevent material compression and stripping of screws.
The complete loudspeaker lineup features Niles' patented and award-winning Directed Soundfield pivoting woofer and tweeter technologies, which enable the woofer and tweeter to be pivoted independently up to 15 degrees in any direction. Niles' Directed Soundfield technology allows professional custom installers to place the loudspeakers in virtually any location and direct the loudspeaker sound into the optimum listening area.
The complete line—available in a variety of 7" and 8" models—feature premium components, including copper caps, high-level crossovers, and Kapton voice coil formers to ensure exceptional sonic performance expected from Niles loudspeakers.
For installations that demand sound remain within the preferred listening area, the loudspeakers can be paired with Niles' new 7" or 8" custom-tuned rear enclosure, which significantly reduces unwanted sound from bleeding into adjacent rooms or spaces.
Delivering the best in audiophile performance from virtually any source, the loudspeakers have been voiced specifically to handle dynamic content from Blu-ray discs as well as compressed music from sources such as iPods, Pandora and Rhapsody.
The lineup of Niles' new DS Directed Soundfield Ceiling Mount Loudspeakers are organized into five logical groupings to help custom installation professionals easily specify the right loudspeaker for every application. The groupings include:
MP (Multipurpose) – A versatile ceiling mount loudspeaker that is ideal for multi-room audio and home theater settings.
PR (Performance) – Strikes the perfect blend of value and performance to deliver high performance sound in a wide variety of applications.
HD (High Definition) – Provides superior sound quality and longevity by utilizing advanced components, materials and circuit design.
FX (Surround Effects) – Ceiling mount loudspeakers for the rear and side channels in a wide variety of home theater and multi-channel music applications.
SI (Stereo Input) – Provides stereo sound from a single loudspeaker; Ideal for locations that cannot support more than one loudspeaker, such as a small bathroom or hallways.
All Niles DS Directed Soundfield Ceiling Mount Loudspeakers come with Niles' Limited Lifetime Warranty. For more information on Niles' DS Directed Soundfield Ceiling Mount Loudspeakers, please visit http://www.nilesaudio.com.
bandphan posts on September 20, 2010 23:41
And for ceiling speakers, sound very good
Post Reply