NHT Unveils New Generation of DSP Powered Speakers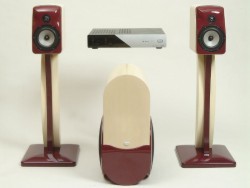 New York, NY, August 23, 2004 - NHT (Now Hear This) recently previewed a new DEQX CalibratedTM DSP-corrected, powered speaker system that reduces distortion and offers impeccable frequency and phase response, regardless of placement or listening position.
NHT Xd is the result of the combined efforts of three companies - NHT, DEQX (Digital Equalization and Crossover), and PowerPhysics - that pooled their respective core technologies to develop a system that removes virtually all possible distortion from the audio signal path while providing a much wider soundfield that remains accurate, even when listening far off axis. The system features two small speaker cabinets; a powered bass, or woofer module; and a hybrid outboard component that houses the DEQX-calibrated DSP (digital signal processor) and PowerPhysics One-Cycle Sound ™ amplifiers. Additional channels and bass modules can be added to create surround systems.
"The loudspeaker is the weakest link in any audio system," said Chris Byrne, NHT's co-founder and Managing Director, Rockford Home Group. "No matter how high the price or defined the engineering, a traditional passive loudspeaker is going to add substantial distortion and frequency response errors. Combine this fact with necessary compromises in passive crossovers -- as well as unknowns such as amplifier power, proximity of boundaries and speaker placement -- and it's no wonder that end-users become frustrated with having to sit in the 'sweet spot' to achieve reasonable sound quality in their homes.
"NHT Xd is the first real response to consumer demands for high performance, smaller systems that offer truly flexible placement and ultimately lead to a wider soundfield that remains precise and accurate no matter where the listener is situated."
NHT Xd: Three Key Ingredients
Just as the NHT Xd is the offspring of three companies' design efforts, the system itself is comprised of three essential components.
Capitalizing on the proven benefits of DEQX CalibrationTM, the NHT XdA DSP/amplifier is the "brain" of the system. Designed to be a truly plug & play solution, the NHT XdA includes only a few intuitive controls: one for each channel, allowing the end-user to set boundary equalization, i.e. an adjustment for maximizing performance when speakers are placed on or next to a wall, on a stand in the middle of the room, on a TV, etc. There are two sets of inputs - RCA and differential balanced (XLR) -- as well as outputs in the form of five-way binding posts, four for each channel, with balanced line level outputs for connecting bass modules.
The amplifier section of the NHT XdA contains four PowerPhysics One-Cycle Sound™ amplifiers that supply high-efficiency, bi-amplification of stereo channels, and two balanced, line-level output channels for the woofer(s). PowerPhysics' proprietary Class D amplifier is compact and highly efficient, generating the bare minimum of heat, allowing NHT to put all electronics into a single chassis measuring 2.6"H x 17"W.
The diminutive (10.25"H x 6.5"W x 8.5"D) NHT XdS satellite speaker features a two-way, acoustic suspension design that houses an ultra-low distortion 5.25" midrange and 1" neodymium tweeter. A massive "heat sink" is attached to the rear of the tweeter to provide substantial power handling, while the cabinet baffle itself is molded from a dense, sonically neutral composite material designed for far-reaching sound dispersion. Each satellite is biamplified, with the midrange and tweeter each powered by an individual amplifier.
Rounding out the NHT Xd system is the NHT XdW powered bass module, comprised of two active, opposed 10-inch drivers and a PowerPhysics 500W amplifier. Unlike other powered woofers, the XdW features only three controls - volume trim, balanced input, and voltage selection. (Crossover functions such as frequency response, phase, crossover point, and time domain filtering are managed by the XdA.)
In the near future, NHT will offer a backwards compatible, wireless (digital 2.4GHz transmission) option for the bass module, in addition to the wired input. Additionally, the NHT Xd system is designed to be upgradeable, so end-users will be able to augment their systems as new DSP-based functions are introduced.

DEQX Calibration: Why and What For?
In short, DEQX Calibration measures loudspeaker and room acoustics using the company's unique methodology, with special filters to optimize system performance. As a result, sound is dispersed across a much wider stage without being tied down to a narrow sweet spot. Additionally, imaging is articulate and defined, while distortion is reduced to previously unattainable low levels that are usually associated with electronics components, not speakers.
One of the more intriguing aspects of the NHT Xd system is the sense of accuracy that is maintained when moving across the soundfield. The sweet spot seems to follow the listener around the room, even when sitting far off axis.
Added Byrne: "After all the speaker refinements and improvements of the past 60 years, DSP presents a path for correcting system behavior that will allow us to meet consumer demands for higher performance, smaller systems that are flexible in placement considerations, making them essential to anybody who is ready to take the next step in audio reproduction."
About NHT
Since it was founded in 1986, NHT® has continually challenged the notion that the very best sound reproduction must come at a premium price. NHT takes pride in designing and marketing loudspeaker systems that provide a lifetime of listening pleasure. Its products from past to present speak volumes of NHT's dedication to sonic excellence. For more information, visit www.nhthifi.com. NHT (Now Hear This) is a brand name of Rockford Corporation®. Rockford Corporation is based in Tempe, Ariz. and is a publicly traded company under the NASDAQ stock symbol ROFO. NHT's website can be viewed at www.nhthifi.com and www.rockfordcorp.com .
DEQX Pty Limited's goal is to make the speaker and listening room 'transparent' to deliver the maximum 'being there' high-definition audio experience. DEQX will offer a number of products that provide the DEQX Calibrated™ processing. These are variously designed for speaker and equipment manufacturers, professional recording and broadcast studios, commercial auditoriums and cinemas, stereo hi-fi and surround home theatre, and for car audio. For more information, visit www.deqx.com .
PowerPhysics, Inc. of Newport Beach, CA designs and manufactures audio amplifiers and power supplies for sale to audio equipment manufacturers. Its patented control laws put switching amplifiers into the realm of audiophile sound. One-Cycle Sound™ amplifiers are favored by professional users from Broadway to Hollywood, and are now available for home use thanks to NHT. For more information please visit www.powerphysics.com .