New Sony NW-HD3 Hard Disc Network WALKMAN features MP3 & ATRAC3plus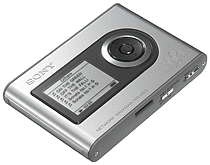 Sony today announces the launch of the Sony NW-HD3 (NWHD3), a new addition to its Network WALKMAN range. The Sony NW-HD3 plays back both ATRAC3plus and MP3 files, has a 30 hour battery life and is available in four colour variations. The Sony NW-HD3 will hit the shelves in the UK in December 2004. The Sony NW-HD3 comes with a range of features designed to deliver quality, choice and convenience for every fan of portable music.
The built-in 20 GB hard disc can hold the equivalent of 13,000 tracks or 900 CDs worth of music when using high quality ATRAC3plus audio compression technology. It offers 30 hours of uninterrupted playtime from a single battery charge and withstands almost all kinds of movement to deliver a skip-free performance.
Specially developed G-Sensor technology enables the hard disc to resist impact to protect your valuable music or other data. Its aluminium body makes it light to carry, and the four colour variations of silver, black, pink, and red have been selected to provide a myriad of refreshing options.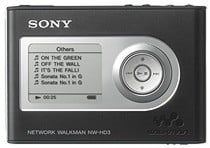 Dave Andrews, Product Manager for WALKMAN at Sony said:
"With the NW-HD3, Sony again demonstrates its commitment to combining style with technological excellence to make this new Network Walkman a must-have for the most discerning and fashion-conscious of music lovers. High performance features, ATRAC3plus and MP3 playback, contemporary design and competitive price make the Sony NW-HD3 the ideal digital music player in today's emerging world of PC and online music."
The Sony NW-HD3 is the latest addition to Sony's Network WALKMAN family. Other models in the range include the recently launched NW-E95 and NW-E99 , which also playback ATRAC3plus and MP3, and the NW-E55 and NW-E75 , which now support both formats, with a free software download from the Internet ( www.sonydigital-link.com/DNA/NWW/nww.asp ).
All Network WALKMAN, Net MD WALKMAN, Hi-MD WALKMAN, ATRAC CD WALKMAN owners can log onto Sony's digital music site 'CONNECT', which provides over 500,000 downloadable tracks from both major and independent labels. The NW-HD3 is also shipped with the latest version of Sony's SonicStage software (version 2.3), which allows users to manage and transfer ATRAC3plus and MP3 files.
SonicStage Software
SonicStage Software is Sony's music management programme, which allows you to catalogue your music, buy your music directly on the CONNECT service, and transfer files to your Network WALKMAN.
ATRAC3plus
ATRAC3plus is Sony's audio compression technology. You can choose different levels of compression when you record music from CDs onto your PC using SonicStage software. ATRAC3plus has been developed to offer the best sound quality.
G-Sensor
G-Sensor technology monitors and calculates the gravitational velocity of NW-HD3 in its three dimensions (height, width and depth); the sensor device clears the recording head away from the hard disc when the unit receives physical impact during operation. As a result, recorded content is protected by preventing the recording head from potentially scratching the hard disc surface.*1
CONNECT
Sony Europe launched its European online music download service in July, starting in the UK, France and Germany. CONNECT offers more than 500,000 songs including albums and singles from both major and independent record labels. Tracks are available in the ATRAC3 format at prices starting from 79p in the UK. Visit CONNECT to download music at www.connect-europe.com
Key Features of the NW-HD3:
ATRAC3plus and MP3 playback compatible
Over 30 hours of playback time*2
G-Sensor
20GB HDD = 13,000 tracks*3(900CDs)
4 colour variations (Silver/ Black/ Pink / Red)
Aluminium body
Headphones and AC adaptor supplied
USB cable supplied
USB adaptor supplied
*1 G-Sensor does not guarantee protection for the player from all types of impact.
*2 In ATRAC3plus 48kbps mode.
*3 Calculated on the basis of 4 minutes per song and using ATRAC3plus 48kbps