New Pioneer Elite Receivers VSX-52TX, 54TX, 56TXi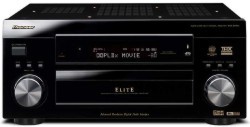 Close your eyes, listen to the music and feel the impact of the newly introduced Pioneer Elite audio/video receivers. With more than sixty-five years experience manufacturing audio products, Pioneer is proud to announce its newest family of Elite audio/video receivers, which truly define the notion of quality audio performance. The VSX-56TXi, VSX-54TX and VSX-52TX offer the best in audio reproduction currently available in their price categories with key features including automatic room calibration and enhanced amplification technology.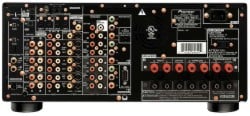 The task of any receiver is to enable optimal use of speakers in any given room environment regardless of the source. If done well, listeners have the sensation of musicians actually performing live in the room, or the experience of being in a theater while watching an action packed movie on DVD. Pioneer continues to refine its revolutionary multi-channel acoustic calibration circuitry and enhanced amplification technology to enhance the listening experience. With the introduction of these three new receivers, the company begins a new chapter in audio/video fidelity.
Powerful Performance
The three new receivers rival what separate esoteric amplifiers would be able to produce as a result of their added capacitor size and superior build quality. Each receiver utilizes a 15-pound power supply and the largest capacitors in the industry. They have an enhanced ability to drive multiple channels, and offer improved bass reproduction, a better sound stage, a lower noise floor, and improved audio clarity. Each receiver has a specific audio signature and can reproduce an array of high to low-end frequency signals with ease.
 VSX-56TXi -- 2 x 27,000uf capacitor pair VSX-54TX -- 2 x 22,000uf capacitor pair VSX-52TX -- 2 x 15,000uf capacitor pair 
Pioneer Elite receivers offer equal amplifier power to all channels, eliminating the possibility of one channel dominating a particular sound field. All amplifiers are of discrete MOSFET configuration for low distortion and are capable of handling any current surround format. These receivers offer THX-Select(TM), Dolby Digital EX(TM), DTS-ES(TM), Dolby Pro Logic IIx(TM) and DTS NEO-6(TM) surround processing.
"Pioneer's goal with new Elite receivers is to enhance the listening experience. With these receivers, the listener will be able to hear the finite details of a recording in a way that brings the artist right into the living room," said David Bales, marketing manager of audio products for the home entertainment division of Pioneer Electronics (USA) Inc.
Auto Room Tuning
The VSX-56TXi, VSX-54TX and VSX-52TX receivers provide a refined multi-channel acoustic calibration system (MCACC) for optimum accuracy in multi-channel sound reproduction. The calibration system works by measuring the acoustic characteristics of the listening area and neutralizing the ambient characteristics that can "color" the original source material. First the MCACC uses the microphone provided to check and test ambient noise levels, the microphone, and speaker levels. Once the initial set-up calibration is complete, the system automatically confirms size of the speakers that are hooked up to the receiver and distance to the listener, then performs a surround analysis. Finally, MCACC checks the channel delay and channel level, before performing the acoustic calibration. During the acoustic calibration process, the speakers will emit a series of pink noise and timing pulses that are received by the microphone and sent to a digital equalizer for final calibration of up to seven channels.
Advanced Room Tuning
Both the VSX-56TXi and VSX-54TX receivers provide an Advanced MCACC offering all-channel 96/24 analog-to-digital conversion allowing for manual settings if preferred.
  Advanced MCACC features include:  
Professional Acoustic Calibration Setup -- This takes into consideration the reverberant qualities of the listening area and uses this information to adjust the frequency response more accurately for human ears. It distinguishes the difference between the direct sound from each speaker and the reflected sound off of the walls.
Auto Pro -- This feature enables the receiver to output test tones, and automatically adjusts the frequency balance for each speaker in accordance with the reverberation characteristics in the listening room.
Manual Pro -- The receiver measures the room acoustics with reverberation and displays this information on the television connected to the receiver. Once the reverberation characteristic in each frequency band is measured, the user can select which timing frequency to use for manual calibration.
MCACC also has the ability to send data to a PC through the RS232C port for a detailed and precise display of the measured reverberation frequency response in the listening room.

Connectivity & Control
The VSX-56TXi, VSX-54TX and VSX-52TX are easily integrated into a home theater system with multiple connectivity options as well as all the versatility a consumer or custom installer would need. These robust receivers offer:
Component video up-conversion that allows both composite and s-video signals to be up converted to component video levels and then sent to the display through a component cable.
Multi-room/source capabilities allowing one receiver to act as the centerpiece of multiple rooms.
IO ports to offer custom installers the ability to connect and allow the control of source products that are hidden in another room or inside a cabinet no matter the manufacturer.
RS232 port for PC and control connectivity.
Assignable digital inputs and outputs.
A redesigned easy to use remote control with LCD display (VSX-56TXi and VSX-52TX only)
The VSX-56TXi, VSX-54TX and VSX-52TX are currently available with a manufacturer's suggested retail price of $1700, $1500 and $1000 respectively.
Pioneer is the leading manufacturer of plasma televisions and monitors, DVD players and DVD recorders, A/V receivers, CD players and CD recorders, speakers and other audio and video accessories. Its focus is on the development of new digital technologies including Digital Network Entertainment. The company markets its products under the Pioneer and Pioneer Elite brand names. When purchased from an authorized dealer, consumers receive a limited warranty for one year with Pioneer products and two years with Pioneer Elite products.
Pioneer Electronics (USA) Inc. is headquartered in Long Beach, Calif., and its U.S. Web address is www.pioneerelectronics.com . Its parent company, Pioneer Corporation, is a leader in optical disc technology and a preeminent manufacturer of high-performance audio, video, computer and cable equipment for the home, car and business markets. The company focuses on four core business domains including DVD, display technologies, Digital Network Entertainment and components. Founded in 1938 in Tokyo, Pioneer Corporation employs more than 36,000 people worldwide. Its shares are traded on the New York Stock Exchange.