NEW Oppo DV-970HD DVD Player for $149!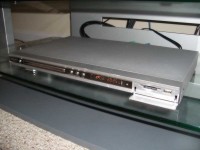 We were fortunate enough to get a sneak peek at the new DV-970HD DVD player from Oppo and have had it on hand for a couple months now, putting it through its paces. Well, the NDA has lifted and we can let you know that this new player is a significant step up from their current OPDV971H. Possibly its biggest feature includes the ability to handle universal disc playback. It now does DVD-Audio, SACD (via PCM conversion), DivX, Xvid, HDCD and WMA. It also features an HDMI output with 480i/576i support (and a cable is included), a 4-in-1 memory card reader, single USB port, and the new remote Oppo introduced in later iterations of the original player. We will be releasing a comprehensive review of this new player shortly, but are amazed at the features available FOR AN MSRP OF $149 - and no, that's not a typo.
OPPO Digital, Inc. officially announced this new DVD player today and the DV-970HD is available from OPPO Digital (www.oppodigital.com) and OPPO authorized resellers for $149. That's $50 less than their original player - and we all know the kind of rave reviews that unit receiverd. With the $50 price drop this unit should fly off the shelves faster than a cookie within reach of my 3-year-old.
OPPO Digital's DV-970HD was developed following the success of the OPDV971H. With experience garnered from the OPDV971H and insightful input from the A/V enthusiast community, OPPO packs the DV-970HD with high performance and enthusiast grade features - and at an almost ridiculous value.
From OPPO: "Most of today's DVDs and DVD players are intended for low resolution, standard definition televisions. The DV-970HD, designed for every HDTV owner, up-converts standard DVD to high-definition signal, producing clearer, smoother, and crisper video on HDTV and projectors. Its HDMI output ensures a pure, straight digital path for video and audio."
In addition to its up-conversion feature, the DV-970HD can now output a native 480i/576i resolution over HDMI, making it an incredible digital transport for use with high-end video processors or scalers. This is something that was lacking in the earlier model - and represents a nice fix.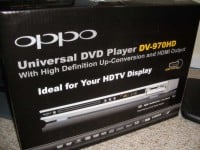 Featuring a stylish, slim, and modern design, the DV-970HD includes an integrated 4-in-1 flash memory card reader to allow viewers to enjoy their digital pictures and videos on their TV. It also offers a USB interface for expanded connectivity.
"HDTVs and projectors are now hitting the mainstream and what all consumers are learning, is that their standard DVD players aren't going to provide the necessary video resolution to truly enjoy their HD experience," said Nathaniel Plain, Manager of Technical Service at OPPO Digital and a fellow videophile. "With all of the attention on which standard will become pervasive for next generation HD DVDs, OPPO is providing an immediate solution which allows consumers to enjoy their existing DVD library in HD quality video."
The DV-970HD also supports both NTSC and PAL disc and television systems. As video is only part of the equation, the DV-970HD also features excellent audio with Dolby Digital surround sound and Pro Logic II decoding. A high-quality certified HDMI cable with gold-plated connectors is included, adding even more value to the already feature-packed product.
More information can be found online at www.oppodigital.com .