New Digital Home Theater Receiver from Kenwood Spotlights TI Technology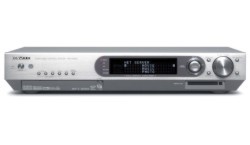 DALLAS, Aug. 17 - Texas Instruments Incorporated announced a new consumer product from Kenwood that features TI's PurePath Digital(TM) technology. Helping to differentiate home theater equipment, PurePath Digital technology is implemented in TI's digital amplifiers and produces the most lifelike sound while enabling sleek, slim-profiled high power audio products. (See http://www.ti.com/digitalaudio7 .)
"Kenwood's Sound Meister System, consisting of sound quality experts, screens and researches audio innovations, and TI's PurePath Digital technology has surpassed our stringent performance requirements," said Mr. Mitsuo Hagiwara, the Sound Meister of Kenwood Corporation. "We chose TI because it delivers superior sound quality, powerful functionality and a slim design."
Kenwood's VRS-N8100 audio/video receiver utilizes TI's TAS5182 power stage, controlling two channels of up to 100 watts (W) (6 ohms) of high- efficiency output each, and the TAS5076, a 24-bit six-channel pulse-width modulator (PWM) processor. TI uses noise-shaping and error-correction filtering algorithms to achieve superior dynamic range and flat noise floor with no spurious tones. The VRS-N8100 has a suggested retail price of $700 and will be available at major retailers in September 2004.
"TI's PurePath Digital technology logo is like a gold seal of approval that assures consumers they are getting a product with TI's digital amplifier, which enables some of the best sound performance available," said Jeff Akgul, Digital Home Audio business manager, Texas Instruments. "As more and more products begin to hit store shelves highlighting the PurePath Digital technology brand, consumers will be able to clearly identify which products offer superior audio quality to ease the purchasing process. TI's expertise in digital entertainment and sound quality enables PurePath Digital technology to provide a measured and perceived difference in audio performance that is the best in its price range."
About the Kenwood VRS-N8100
Available in August, 2004 The VRS-N8100 seamlessly merges your entertainment system with your home computer. The rear-panel Ethernet connector lets you stream audio and video files from your computer to your home theater system, so your entire family can enjoy them with audio performance that you just can't get from a computer. A front-panel PCMCIA card slot accepts media card adapters so you can even display pictures from digital cameras over your home theater, and on-screen GUI operation makes it easy to find and play all your digital media. Plug a game console into the front-panel game audio/video input (complete with digital audio connection) and the VRS-N8100 will detect when you turn the game on and automatically select that input and the proper surround sound processing. Dual-Source/Single-Zone operation lets you listen to your game's sound through headphones while the rest of your family enjoys music through speakers. Dolby Headphone processing creates a totally out-of-the-box 5.1-channel surround sound effect through any pair of ordinary stereo headphones. The included universal pre-programmed remote is ready to go with Xbox and PlayStation2 codes. When you want to watch movies, the VRS-N8100 puts you right in the middle of the action with Dolby Digital EX and DTS-ES 96/24 surround sound, and Dolby Pro Logic IIx transforms your ordinary 2-channel stereo music sources like CDs, tapes and FM radio into 6.1-channel surround sound masterpieces. The ADI SHARC 32-Bit DSP processor, high-resolution digital volume control and rigid chassis construction give the VRS-N8100 incredibly accurate performance at all signal levels, from the loudest explosion to the most delicate musical passage. The PurePath digital power amplifier delivers 130 watts to each of six channels, so your games, movies and music will really rock the house. And the exclusive Kenwood Fineline design matches the design of today's popular flat-panel TVs and blends with other entertainment components. MSRP: $800
The PurePath Digital Difference
TI's PurePath Digital technology allows consumer electronics manufacturers to build completely digital, end-to-end audio products with cutting-edge sound reproduction. TI enables superior audio quality that is unmatched at specific price points. By bringing movie soundtracks or music to the listener exactly the way the artist intended, PurePath Digital technology offers the best in high-end digital entertainment to the everyday consumer.
Texas Instruments Incorporated provides innovative DSP and analog technologies to meet our customers' real world signal processing requirements.
In addition to Semiconductor, the company's businesses include Sensors &
Controls, and Educational & Productivity Solutions. TI is headquartered in
Dallas, Texas, and has manufacturing, design or sales operations in more than
25 countries.
Texas Instruments is traded on the New York Stock Exchange under the symbol TXN. More information is located on the World Wide Web at http://www.ti.com