New Denon Receivers - AVR-2105, AVR-5805, AVR-2805, AVR-1905, and AVR-1705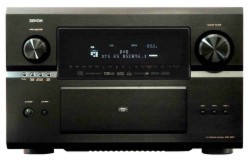 Pine Brook, NJ, July 12, 2004 - Denon Electronics, one of the world's premier manufacturers of high-quality home theater receivers, is leading the way in the era of great home theater surround sound with a completely revamped line of audio/video receivers for 2004. Denon's new flagship AVR-5805, the world's first 10-channel A/V receiver leads the charge of six high-performance models designed to fit every need and budget. The new Denon A/V receiver lineup includes: the AVR-5805 (SRP: $6,000), the recently introduced AVR-3805 (SRP: $1,199) and AVR-2805 ($899), as well as the new AVR-2105 ($649), AVR-1905 ($499), and AVR-1705 ($399).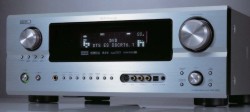 All Denon A/V receivers combine superb sound quality with expanded audio/video control capabilities. Virtually all models, for instance, include IR remote in/out terminals for integrated system control. Models AVR-2805, AVR-3805, AVR-4805 and AVR-5805 also include serial ports for RS-232C protocol control as well as assignable 12V trigger controls. In addition, all models except the AVR-1705 feature assignable amplifier configuration for either 7.1-channel surround operation or 5.1 surround with an amplified second zone. All Denon receivers support multiple audio/video formats for maximum flexibility in custom and multi-room home entertainment installations.


Denon AVR-1705 receiver back panel

Denon AVR-1905 receiver back panel

Denon AVR-2105 Receiver: New Price/Performance Benchmark
As Denon's A/V receiver line continues to evolve, the company is committed to bringing high-quality surround sound to more consumers than ever before by including some of the world's most advanced features and performance enhancements throughout the line. The new AVR-2105, for example, includes many of the same high-end features that distinguish Denon's higher-priced units. For instance, the AVR-2105 provides seven built-in channels of amplification (90 watts per channel, 8 ohms, 20 -20kHz, < 0.05% THD) to drive all the main loudspeakers in a 7.1 home theater surround sound system. For compatibility with all of today's advanced home theater audio formats, it features 7.1-channel surround decoding of formats including Dolby Digital Surround EX, DTS, DTS 96/24 5.1 for DVD-Video, DTS ES Discrete 6/1, ES Matrix 6.1 and Neo: 6 Cinema & Music modes, as well as Dolby PLIIx (for cinema, music and games). For added utility and flexibility, the AVR-2105 (like all new Denon receivers) includes Dolby Pro Logic IIx decoding, the first technology to offer users the choice of processing traditional stereo music and movie content into a room-filling 6.1- or 7.1-channel listening experience. Dolby Pro Logic IIx also gives users a flexible upgrade path, allowing them to connect extra channels and speakers to their 5.1- or 6.1-channel systems in the future.

Calibration Made Easy
The new Denon AVR-2105 receiver also includes Denon's Auto Set-Up calibration feature that makes it easier to tailor the performance of the receiver for any home theater or music listening environment. The Auto Set-Up feature analyzes and calibrates six critically important settings: speaker connection, phase, size and frequency response. It also adjusts channel level and time delay. Denon's calibration feature also utilizes higher-performance DSP processors, along with the finest Digital to Analog converters, to define optimum sound quality. For best results, the company offers an optional, specially designed calibration microphone for the setup feature. Additionally, Auto Set-Up can be disabled for consumers who prefer calibrating their receivers in the traditional manner.
Denon's Power Amp Assigned function adds to the AVR-2105's flexibility in providing high-quality surround sound solutions. Since the majority of home theater systems are 5.1-channel, this feature allows users to enjoy a fully powered, discrete two-channel second zone.
Advanced Technologies For Unmatched Audio and Video Performance
Like all Denon receivers, the AVR-2105 delivers superlative sound quality, thanks to premium digital audio technologies such as Analog Devices Hammerhead SHARC 32-bit floating point DSP processing (now featured in all models). For exceptional resolution and dynamic range, the receiver utilizes premium Analog Devices AD-1837 24-bit, 192 kHz audio D/A converters on all channels. And like all Denon receivers, it is compatible with every popular surround sound audio format.
The AVR-2105 also includes a full complement of audio and video connections for maximum flexibility, including three bandwidth-assignable (100MHz) component video inputs. And for unmatched simplicity of video connectivity and switching, all Denon receivers now feature video-up conversion that converts composite and/or S-video sources to component video without compromising video quality. Other versatile features include a high-quality AM/FM tuner with preset memory tuning, second zone speaker outputs with independent volume control, and much more. For added convenience, the AVR-2105 features a newly designed, multi-line front panel display that's easier to read and provides more information.
Denon receivers are all available in black. The new AVR-3805 and AVR-2805 are also available in the same luxurious gun-metal gray finish as several new Denon DVD players, allowing consumers to create aesthetically matched home entertainment systems.
The Denon AVR-2105, and 6-channel AVR-1705, will be available this month. The AVR-3805 and AVR-2805 are currently available, while the AVR-1905 will be available in August and the flagship AVR-5805 in September.
About Denon Electronics
From its beginning in the 1930s as a supplier of professional recording studio and broadcast equipment, Denon has become a world leader in the manufacture of the highest quality home theater, audio and software products. Denon is recognized internationally for innovative and groundbreaking products and has a long history of technical innovations, including the development and first commercialization of PCM digital audio. Denon Electronics is a wholly owned subsidiary of D & M Holdings Inc.
About D & M Holdings Inc.
D & M Holdings Inc. (TSE II: 6735) is based in Tokyo and is the parent company of wholly owned subsidiaries Denon Ltd., Marantz Japan, Inc. and McIntosh Laboratory, Inc. Denon, Marantz and McIntosh are global industry leaders in the specialist home theater, audio/video consumer electronics and professional audio markets, with a strong and long-standing heritage of manufacturing and marketing high-performance audio and video components. A wholly owned subsidiary of D & M Holdings U.S., Inc., Digital Networks North America, Inc. (DNNA), owns the ReplayTV®, Rio® and Escient® brands - all representing award-winning technologies in digital home entertainment. Additional information is available at www.dm-holdings.com .
###
DISCLAIMER
Statements in this news release that are not statements of historical fact may include forward looking statements regarding future events or the future financial performance of the company. We wish to caution you that such statements are just predictions and that actual events or results may differ materially. Forward looking statements involve a number of risks and uncertainties surrounding competitive and industry conditions, market acceptance for the company's products, risks of litigation, technological changes, developing industry standards and other factors related to the company's businesses. The actions referred to in this press release are not an admission or acknowledgement of any claim or allegation. The Company reserves all of its rights.