NetStreams Demos HD Video-over-IP Distribution System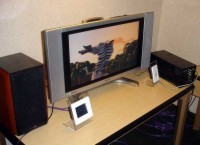 AUSTIN, TX - January 18, 2006 - At the 2006 Consumer Electronics Show, NetStreams®, the global leader in networked entertainment systems based on Internet protocol (IP) technology, announced the world's first successful demonstration of a fully IP-based video distribution system suitable for home or commercial use.
NetStreams, makers of world's only IP-based multi-room audio entertainment system, said the IP video capability would be incorporated into its DigiLinX™ IP-based multi-room entertainment system in new products to be launched within 12 months and would be available for integration into other companies' products in a similar time frame.
"This is a huge step forward for distributing TV, music videos, and home theater programs over a home network and other systems based on local area network architecture," said NetStreams president and founder Herman Cardenas. Cardenas said that because of the system's network architecture, which distributes high quality uncompressed audio, video, and control signals via TCP/IP on a CAT5 cabling, DigiLinX video products would deliver uncompressed HDTV signals over packetized TCP/IP streams to multiple rooms in a home or system
Unlike other multi-room audio-video systems, the NetStreams DigiLinX uses only digital computer network technology to link all components. The system's key advantage, of carrying both system control and content information along a standard network cable using open-standard protocols, greatly reduces system wiring, simplifies installation and set-up, ensures excellent signal quality, and allows other companies' IP-based products, such as climate, lighting, or security controls, to operate on the same network.
While NetStreams employs the streaming technology used for sending music and video over the Internet, its patent-pending StreamNet technology involves synchronizing content delivery so that programs play at precisely the same time throughout an entire system, an essential feature for multi-room entertainment.
About NetStreams
Headquartered in Austin, Texas, NetStreams provides sophisticated networked entertainment (audiovideo/control), leading the marketplace in technological innovation. NetStreams is committed to utilizing state-of-the-art human engineering to create home entertainment products that are truly user-friendly and future-compatible. NetStreams is creating the future of home entertainment today.
For additional information on NetStreams and its innovative products, please visit www.netstreams.com .