NetGear MP115 Wireless Digital Media Player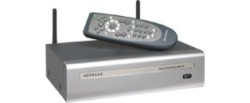 SANTA CLARA, Calif. - NETGEAR, Inc., a worldwide provider of technologically advanced, branded networking products, today announced its easy-to-use networked digital home entertainment solution, the NETGEAR Wireless Digital Media Player (MP115). As the latest addition to NETGEAR's family of digital entertainment solutions, the Wireless Digital Media Player provides simple, affordable access to video, photo, and music file collections from anywhere within the home network. Parents can share digital home movies and slideshows and kids can stream their favorite MP3s and online radio stations through their television sets and home entertainment systems - all without leaving the comfort of the couch.
The NETGEAR Wireless Digital Media Player (MP115) streams digital media content wirelessly from your PC or the Internet to your TV and home stereo system. Simple to set up and use, the Wireless Digital Media Player operates on both 802.11b and 802.11g networks, works with existing PCs, and connects to the television set through popular AV jacks without needing special cables or expensive adapters. The Wireless Digital Media Player's media server software automatically catalogues every stored digital image and music file on the network, enabling customers to access the existing photo and video file organization while searching music files by title, artist, album, genre, and playlist. It also streams digital content available through premium online content services. A convenient remote control and intuitive on-screen menu enables even the least experienced of PC users to flip through and access the categorized library of songs, movies, and snapshots. As with NETGEAR's earlier Wireless Digital Music Player (MP101), the Wireless Digital Media Player (MP115) furthers NETGEAR's commitment to provide reliable and high-quality digital entertainment solutions for enthusiasts and novices alike.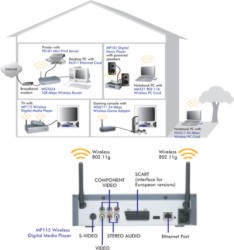 "The Wireless Digital Media Player takes home entertainment to a new level," said Vivek Pathela, NETGEAR's senior director of product management and marketing for residential products. "Now, even average users can experience their entire collection of digital content in full glory without being tied to a PC. Photography buffs, digital film hobbyists and music enthusiasts can see and hear their creations with full impact on the big screen and in stereo sound, while families and friends can easily connect and share their media."
The Wireless Digital Media Player maintains compatibility with a wide range of digital media formats, eliminating the hassle of installing additional software to view or listen to certain files. Compatible file formats include MPEG-1, MPEG-2, MPEG-4, JPEG, GIF, TIFF, BMP, MP3 (up to 320kbps), Windows Media Audio (WMA8 and WMA 9), WAV, M3U, PLS, and streaming MP3 formats. It's also interoperable with any Universal Plug-and-Play (UPnP)-enabled server software. Those who purchase the Wireless Digital Media Player will have access to 50 radio stations of their choice from vTuner.com, in addition to a free trial to commercial-free music stations and Internet audio services from RealRhapsody® Internet audio services.
"As the adoption rate for wireless products and the demand for convergence increases, entertainment solutions such as NETGEAR's Wireless Digital Media Player will be a driving force in expanding the wireless market into new directions," stated Kurt Scherf, vice president and principal analyst of Parks Associates, a Dallas-based market research firm that specializes in residential and small office technology analysis. "Vendors like NETGEAR are pushing digital media adapters into the mainstream and in turn, creating a new level of convenience in home entertainment solutions."
The NETGEAR Wireless Digital Music Player (MP115) interfaces with other home theater devices through stereo audio, composite video, component video, S-Video jacks and SCART interface (for Europe and Australia). A dual 2dbi antenna provides increased quality in wireless reception, enabling content to transmit across greater distances. The Wireless Digital Media Player's media server software works with any existing PC running with Windows 98, 98SE, Me, 2000, or XP, a Pentium 500 MHz processor, 128 MB of memory, and 20 MB of free disk space. And with hardware-based WEP 64-bit and 128-bit encryption, the Wireless Digital Media Player prevents hackers and snoops from tapping into the user's home network and causing malicious harm, guaranteeing both security and peace of mind.
The NETGEAR Wireless Digital Media Player (MP115) is available now at a suggested price of $220. It is backed by a one-year warranty and 24/7 technical support.
About NETGEAR, Inc.
NETGEAR® (Nasdaq: NTGR) designs technologically advanced, branded networking products that address the specific needs of small and medium business and home users. The Company's suite of over 100 products enables users to share Internet access, peripherals, files, digital multimedia content and applications among multiple personal computers and other Internet-enabled devices. NETGEAR is headquartered in Santa Clara, Calif. For more information, visit the company's Web site at www.netgear.com or call (408) 907-8000.