NetGear Releases 3DHD Wireless Home Theater Networking Kit WNHDB3004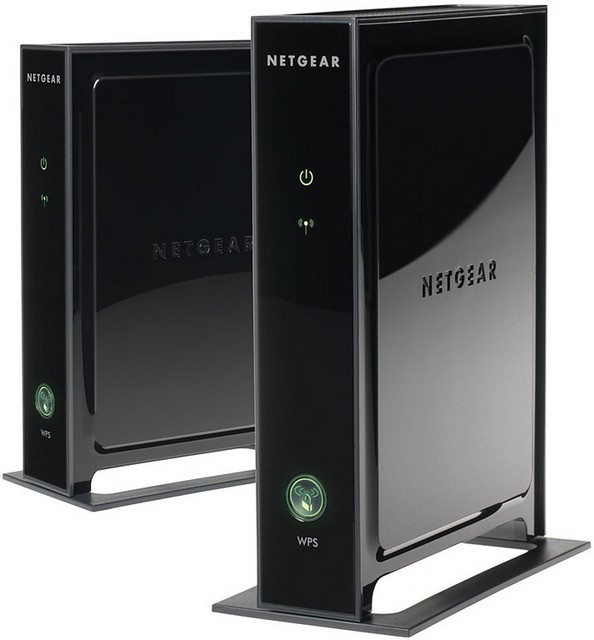 NetGear 3DHD Wireless Home Theater Networking Kit WNHDB3004
Netgear today announced availability of its 3DHD Wireless Home Theater Networking Kit (WNHDB3004) with Netgear 3DHD Wireless technology, claiming the first solution capable of reliably delivering jitter-free 1080p high-definition video streams throughout the home with no new wires. The growing popularity of Internet-capable televisions and other home-theater equipment, including Blu-ray players, video game consoles and digital media adapters, often presents consumers with a big hurdle: The home router or gateway which provides an Internet connection is in one room of the house while the home theater system is in another – sometimes separated by several walls or even on different floors. Running Ethernet cables through the house is expensive and time-consuming.
Netgear 3DHD Wireless technology is the simple, fast and affordable alternative. Designed to support the most demanding media streams, the innovative engineering in Netgear 3DHD Wireless technology includes:
Four transmitters and four receivers built into each 3DHD Wireless adapter for Multiple Input Multiple Output transmission (4x4 MIMO), significantly increasing WiFi range and reliability. Dynamic digital beam forming to steer and target WiFi signals towards the receiver rather than broadcasting the signals in all directions, boosting range. Space Time Block Coding (STBC) to send multiple and redundant copies of the same data across different paths, minimizing packet loss and improving video reliability. A feedback control loop that allows the transmitter to adjust its activity based on responses from the receiver, for reliable video streaming even in a changing or high-interference wireless environment.
The result is carrier-grade range and reliability, capable of sending multiple HD video streams across the home through multiple walls – such as the two simultaneous HD video streams required for 3DHD movies and broadcasts – with virtually no data loss. Netgear 3DHD Wireless technology is robust enough to provide a reliable wireless bridge in homes as large as 5,000 square feet.
"Video consumption in the home has increased at a phenomenal rate and is shifting to the Internet from conventional cable, over-the-air and satellite sources. Our customers are routinely viewing online video content, either stored locally or streaming to their high-definition televisions, and are also moving to broadband digital TV Services. We created 3DHD Wireless technology to keep home networks from becoming a bottleneck for such demanding streams, while eliminating the expense and effort of running Ethernet cables through walls, floors and ceilings. This makes 3DHD Wireless technology an ideal solution for consumers, professional home theater installers and broadband service providers."
- Som Pal Choudhury, Netgear director of product marketing for Core Networking Products
Getting started with the plug-and-play Netgear 3DHD Wireless system is simple. One Netgear WNHD3004 adapter is connected to the home router or gateway via an Ethernet cable and serves as the transmitter. Other adapters then act as receivers, each providing connections for up to four Ethernet-enabled devices such as televisions, Blu-ray players, video game consoles, digital video recorders, broadband set-top boxes, digital media adapters and computers. The WNHD3004 adapter includes a visual indicator light showing the WiFi signal strength, making it easy to re-position the adapter for maximum reception.
To learn more about Netgear 3DHD Wireless technology, please visit http://www.netgear.com/3DHD
Pricing and Availability
Backed by a one-year warranty and full 24/7 technical support, the Netgear 3DHD Wireless Home Theater Networking Kit (WNHDB3004) with two adapters has a manufacturer's suggested retail price of $259 in the United States and will be available worldwide in mid-November, while additional individual adapters (WNHD3004) have a U.S. MSRP of $129.
About Netgear, Inc.
Netgear (NASDAQGM: NTGR) is a global networking company that delivers innovative products to consumers, businesses and Internet service providers. For consumers, we make high performance, dependable and easy home networking, storage and digital media products to connect people with the Internet and their content and devices. For businesses, we provide networking, storage and security solutions without the cost and complexity of Big IT. Netgear also supplies all of the top Internet service providers with retail proven, whole home solutions for their customers. Netgear products are built on a variety of proven technologies such as wireless, Ethernet and powerline, with a focus on reliability and ease-of-use. Netgear products are sold in over 28,000 retail locations around the globe, and through more than 37,000 value-added resellers. The company's headquarters are in San Jose, Calif., with additional offices in 25 countries. Netgear is an ENERGY STAR partner. More information is available at http://www.Netgear.com or by calling (408) 907-8000.
Slee_Stack posts on November 12, 2010 14:11
Running ethernet wire is expensive?

At $129 per pop, your network will get OUTRAGEOUSLY expensive in no time with these!

Running wire is inconvenient and a pain, but very worth it. 1Gbps transfer is sweet. Granted I normally only get about 50-60% (60-80MBps) of this theoretical (and it is very likely limited by my HD write speed), but I doubt this wireless would approach even 10MBps.

Take the $500 that (4) of these would cost and pay someone to run the wire for you.
Post Reply