MXW-920 Universal Waterproof RF Remote Control from URC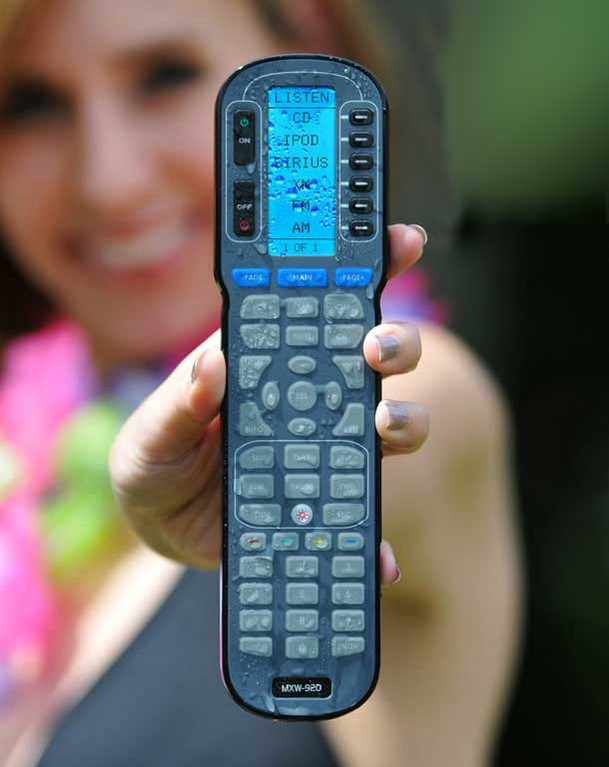 MXW-920 Universal Waterproof RF Remote Control
Universal Remote Control (URC) has just sent us an email detailing their new water resistant RF remote control, the new MXW-920. This remote is one-way, and seems perfectly suited for poolside or patio use. It uses the same programming methodology as their popular MX-900 and KP-900 remotes and features a monochrome LCD display. The remote can be programmed with URC's CCP (Complete Control) software and it uses the 418MHz Narrow Band RF for interference-free broadcasting of commands to any of URC's compatible receivers. The remote is powered by four (4) AAA alkaline batteries and, like the buttons, the compartment is gasket sealed to prevent water infiltration.
This is a cool remote that's sure to be very popular with custom installers and consumers alike. While not completely water proof - it does give a nice splash-proof solution for outdoor use and delivers something that I expect will become one of the company's hottest-selling products this year.
InTheIndustry posts on August 17, 2011 11:23
Love URC, URC Total Control, and we're very excited for this product to be released into the market….

Unfortunately, though, we'll have to contibue to wait a while longer as I was just informed last week by URC MGMT that they had to send it back to engineering to be reworked a bit. URC has typically been a virtually bullet proof brand for us (at least as much as a company can be in this industry) and I guess the water proofing wasn't up to snuff exactly the way URC wanted. I would rather them delay launch and have it right the 1st time than not, so the wait is acceptable.
Post Reply