Municipal Wi-Fi Coming Online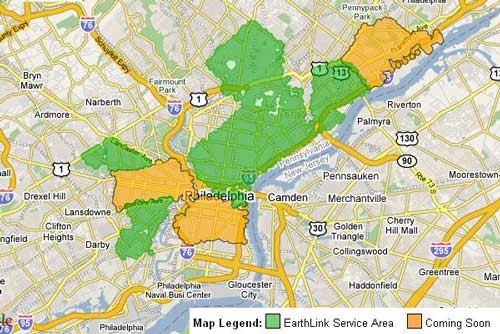 Philadelphia Municiple Wi-Fi coverage
Municipal Wi-Fi differs from traditional "hotspots" in that it turns an entire city - including residential and commercial establishments - into Internet-active zones. Users must then have a (purchased) connection key to access the city-wide wireless network. Earthlink is breaking down barriers even further by rolling out the ability for consumers to purchase municipal Wi-Fi through various retailers

Earthlink's Municipal Wi-Fi is already operating (at least in beta) in five cities: Anaheim, Calif.; Corpus Christi, Texas; Milpitas, Calif.; New Orleans; and Philadelphia with 13 more in negotiation. There are close to 400 Municipal Wi-Fi operations being deployed and/or developed as of this writing.

Adding municipal sales gets Wi-Fi front and center and allows consumers to purchase the technology easily - while also allowing more aggressive "point-of-sale" targeting in order to market the services. Earthlink is offering Wi-Fi through its website at $6.95/month for 6 months with a standard $19.95 plan after the discount period. This includes ~1mbps download speeds, 8 email addresses (100MB storage each) and spam/pop-up blockers. For consumers that want even more speed, EarthLink is offering a 3 Mbps download and 1 Mbps upload service for only $9.95 for the first six months, returning to the recurring rate of $21.95 a month thereafter. This is in addition to its existing DSL/home-phone packages which run from $49.95 - $69.95 per month.
EarthLink is also working with Wireless Philadelphia to promote 'Digital Inclusion,' a cornerstone of the project - which is a program to offer qualifying Philadelphia residents Internet access at the discounted rate of $9.95 per month, before any promotional opportunities. In order to be eligible for this rate, customers can have income up to 150% of the federal poverty level, or participate in certain supportive programs such as Transitional Assistance to Needy Families (TANF) Medicaid, or Supplemental Security Income.
In Philadelphia you can also purchase hourly access for $3.95, get 24-hour access for $7.95 and a three-day pass for $15.95. EarthLink will additionally require Philadelphia customers to use CPE in order to guarantee promised service levels. The unit will be provided for a one-time fee of about $100, or for free to customers who sign up for a year. The routers used to deliver a wireless Internet signal are very powerful – their range is about 500 feet. However, wireless devices in most users' computers are comparatively weak. This disparity doesn't affect outdoor users, who typically have a direct link to a router, but it is exacerbated by indoor obstructions like walls, floors and furniture. The wireless connection's overall strength is limited by the uplink, a computer's ability to talk back to the more powerful router. CPE works to correct the disparity in two ways, first by its ability to be placed near a window or exterior wall, and second by strengthening the uplink signal. The device can be connected directly to your computer, or to an external Wi-Fi router to create an indoor wireless network.
Philadelphia, which is just rolling out its service this year is hoping to have 12,000 subscribers by the end of the year.

avaserfi posts on June 20, 2007 16:14
The world is getting smaller and smaller. Not a bad deal though, especially for people who need 24 hour access to the net hopefully this will help kill those damn CrackBerrys.
Post Reply