Mordaunt-Short Genie Loudspeakers Preview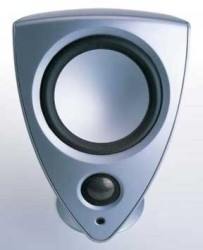 Genie™ is a revolution in Home Theater. With nearly four decades' expertise producing outstanding, award-winning loudspeakers, Genie combines Mordaunt-Short's passion for sound reproduction with a stunning contemporary design. Genie is a truly-flexible Home Theatre package enabling the perfect set-up in any room and with any system. Genie's die-cast alloy cabinets - finished in silver or black - not only look fantastic, but the shape itself delivers a pure and natural sound. A raft of technologies results in compact speakers which offer truly superb sound delivery, whether you're listening to your favourite CDs, watching the latest DVD release or just relaxing in front of the TV.
402 satellites
Each of the four beautifully sculpted satellites houses a 4" (10cm) mid/bass driver. This unit benefits from Mordaunt-Short's latest generation CPC™ (Continuous Profile Cone) proprietary technology and an advanced viscous coupling adapted from aerospace technology. This is allied to Mordaunt-Short's acclaimed 1" (25mm) aluminium dome tweeter, optimally damped to offer the smoothest delivery of high frequencies at all volumes. These and many other technologies come together to produce a satellite speaker which delivers the purest of sound and ingenuity of design never seen before in a Home Theatre package.
404 center
Unlike many current loudspeaker packages, Genie employs a dedicated centre speaker to cope with the different acoustic demands of Home Theatre. The symmetrical D'Appolito (woofer-tweeterwoofer) configuration is specially voiced for dialogue and optimised for central positioning. The 404 is also magnetically shielded which means it can be placed close to (even on top of) a TV and other sources without interference.
409W digital subwoofer
Looking after low frequencies is the 409W subwoofer, powered by a 200 watt digital amplifier. This uses a 10" (25cm), long-throw down-firing CPC driver and incorporates Mordaunt-Short's innovative Adjustable Notch Filter™ technology and ARC™ (Active Room Control) system. This enables you to tuneout unwanted room effects using the supplied set-up meter. Finished in silver with a stylish, anodised aluminium top, the downfiring design means placement is possible virtually anywhere in the listening environment.
CPC™ (Continuous Profile Cone)
Latest generation CPC™ (Continuous Profile Cone) drivers featuring Mordaunt-Short's new variable V-Form™ technology enable exactly predictable driver performance by ensuring controlled piston-like movement at low frequencies and minimal break-up at higher frequencies. Lightweight, extremely rigid anodised aluminium cones are used for faithful dynamics.
ARC™ (Active Room Control)
Because every room is different, we have developed a proprietary room matching system to deliver the very best low frequency performance. Quickly tune-out unwanted effects using the supplied Sound Pressure Level (SPL) meter and set-up CD. The SPL meter can also be used to accurately set-up channel levels across your Home Theatre system using the 'test tone' function on AV receivers.
Nickel-plated, bullet terminals
Completing the elegant cabinets, are matching nickel-plated, bullet terminals offering flexible connection - via banana plugs, bare cable or spade terminals.
Aluminium dome tweeters
Mordaunt-Short's proprietary 25mm anodised aluminium dome tweeter gives excellent dynamics and astonishing detail over a wide frequency range. A high temperature voice coil with liquid cooling and damping guarantees the perfect performance.
Advanced cabinet design
The shape and material used minimises transitional colouration meaning you get the ultimate Home Theatre speaker system - sonically and visually!
Magnetically shielded
Magnetic shielding means units can be placed close to TVs without interference. This is particularly important for the 404 center
Flexible Mounting Options
Both the 402 satellite and 404 center are supplied with integrated, fully-adjustable stands offering shelf or wall mounting options (fixing template included).
Optional 90cm satellite floor stands - styled to set-off the speakers perfectly - are available with spikes and rubber feet to suit carpet or hard surface placement. These neat units feature integrated cable management and a cast-steel base for maximum stability.
Specifications
402 satellite
Sensitivity: 84dB
Frequency response: 95Hz - 20kHz
Impedance 4 - 8 Ohms
Drive units: 102mm (4") aluminium 2nd generation CPC woofer, 25mm (1") aluminium dome tweeter
Crossover: Damped 2nd order
Recommended amplifier power: 15 - 100 watts
Dimensions (W x H x D): 5.2" x 8.8" x 6.7" (132mm x 223mm x 170mm)
Weight: 4.0 lbs (1.8Kg)
Colour: Silver/black

404 center
Sensitivity: 87dB
Frequency response 95Hz - 20kHz
Impedance 4 - 8 Ohms
Drive units: 2 x 89mm (3.5") aluminium 2nd generation CPC woofers, 25mm (1") aluminium dome tweeter
Crossover: Damped 2nd order
Recommended amplifier power: 15 - 100 watts
Dimensions (W x H x D): 11.9" x 5.3" x 6.3" (302mm x 134mm x 160mm)
Weight: 4.6lbs (2.1Kg)
Color: Silver/black

409W subwoofer
Input sensitivity: Line in 200mV (for max output)
Frequency response: 38Hz - 200Hz
Mains voltage: 110 - 120 volts, 50 - 60Hz; 220 - 240 volts, 50Hz
Power consumption: 250 watts
Drive units: 10" (250mm) long-throw aluminium CPC woofer
Crossover: Active, variable from 50 - 200Hz
Output power: 200 watts
Dimensions (W x H x D): 14.5" x 16.6" x 14.5" (370mm x 423mm x 370mm) (including feet)
Weight: 34.1lbs (15.5Kg)
Color: Silver
Pricing & Availability
Genie 402 Satellites - $415.00/pr
Genie 404 Center - $370.00/ea
Genie 409 Subwoofer - $700.00/ea
Complete 5.0 System (w/o 409 sub) - $1,200.00
Complete 5.1 System (incl 409 sub) - $1,900.00
Genie Floorstands - $150.00/pr
Mordaunt-Short will be introducing the Genie loudspeakers at CEDIA 2004 in September and will be annoucing them during a special press event in NYC August 3rd. for more information, please visit the Mordaunt-Short website.