Mix & Burn Offers Major Labels in Digital Music Kiosks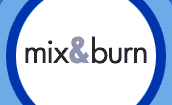 SAN DIEGO - Aug. 12, 2005 - Mix & Burn introduces upgraded "Digital Music Filling Station" approved by major music labels including SONY BMG and Warner Music Group. Upgraded kiosks allow retail customers to purchase, download and play major label content directly on portable devices compliant with WMP10 (Windows Media Player 10). Customers will also be able to transfer their music purchase from their players to their home PCs where it can be played by WMP10.


"Offering digital music at retail has a lot of potential for consumers," said David Levin, VP New Media, SONY BMG Music Entertainment. "We need to make our content available at the moment and in the format individuals want to consume it. Mix & Burn's upgraded kiosks present a perfect conduit to meet this goal," he added.
"This new service will reach a rapidly growing customer segment with portable music players," said Adam Mirabella, Senior Vice President, e-Commerce, WEA Corp, WMG's U.S. sales and retail marketing company. "We are excited to see Mix & Burn adding these new capabilities to its in-store kiosks."
The Mix & Burn listening and CD burning system, currently being tested by a number of major retailers, empowers consumers to either make personal compilations or burn full album CDs instantly at the point of sale. Mix & Burn currently has agreements in place with all of the major labels which allows them to offer CD burning at retail.
"The ability to download major label content to portable music players from a kiosk has been eagerly anticipated by our national retail customers," said Bob French, President of Mix & Burn. "To do this, we have worked with SyncCast, a Microsoft Gold Partner, to build and integrate its digital media technology into our kiosk systems," he added.
"Mix and Burn and SyncCast have been working diligently to have a digital download solution for retailers in time for this holiday season. We are excited to have the technology ready and are looking forward to showcasing it," states Ezra Davidson, EVP of Business Development with SyncCast. Mix and Burn and SyncCast will demonstrate the new technology at NARM's Insight & Sounds conference to be held in San Diego from August 12th through the 14th.
About Mix & Burn
Mix & Burn is helping retailers nationwide put the digital music market in their stores with its Music Tablet(TM), an innovative kiosk that allows consumers to mix and burn music CDs and download digital songs on demand. Mix & Burn pioneered the music on-demand industry by being the first to offer the complete digital catalogs of all major record labels in retail stores for CD burning. Now, Mix & Burn is pioneering the next generation of media-on-demand kiosks by offering direct downloads of music to portable players. www.mixandburn.com
About SyncCast
SyncCast is a Digital Media Technology provider that develops complex, end-to-end, custom solutions as managed services, runtime applications/appliances or work for hire with a specific emphasis in the secure delivery of digital media content to the entertainment industry via the Internet and other media sources such as kiosks, DVDs, CDs and mobile devices. Sync offers XML/Web Services-based tools for managing, ingesting, monetizing, integrating and delivering digital media. SyncCast clients include: Wal-Mart, Comcast, Microsoft, Billboard, Warner Bros., Universal Music Group, EMI Music Group and others. www.synccast.com