Mitsubishi Introduces 1080p DLP HDTVs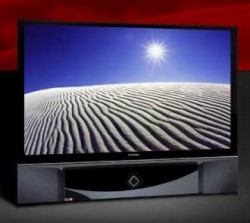 Mitsubishi Digital Electronics America Inc. introduced five fully integrated HDTVs at its national dealer line show. All five televisions include Plush(TM) imaging to deliver an unmatched perfect picture every time and ClearThought(TM) technology to make it easy to watch TV.
Mitsubishi's WD-52627 (52-inch), WD-62627 (62-inch), WD-52628 (52-inch), WD-62628 (62-inch) and WD-73727 (73-inch) all boast 1920 x 1080p pixel resolution and Mitsubishi's proprietary Dark Detailer(TM) light engine technology for unmatched contrast and black levels. All five models come with Plush1080p, Mitsubishi's third-generation upconversion system updated for 1080i-to-1080p deinterlacing. The 628 Series and 727 Series models also feature Mitsubishi's new DeepField(TM) imager and SharpEdge(TM), enhancing brightness and contrast. The WD-73727 boasts a powerful 150W lamp for a bold and bright picture, a considerable achievement for a screen of this size.
These new models have two HDMI inputs, three component video inputs and a nine-format memory card reader. All of these HDTVs are also Digital Cable Ready with CableCARD and have front panel IEEE 1394 inputs with DV decoder to allow easy playback from digital video camcorders.
All five microdisplay televisions use Texas Instruments Digital Light Processing technology and Mitsubishi's ClearThought technology to make them the easiest to use full-featured TVs available. ClearThought includes TV Guide On Screen program guide, and an all-digital audio output that converts analog audio signals to digital. The new models also come with NetCommand 5.0, the latest generation of Mitsubishi's home theater operation system which allows users to set up and control components using simple on-screen icons.
Dark Detailer is a new Mitsubishi technology that provides enhanced contrast and black levels. It allows a wider palette of dark gray shades, giving a realistic sense of depth to the picture.
DeepField imager is a new system Mitsubishi developed that allows the television to display enhanced contrast and sharpness. It constantly monitors the picture signal and finely adjusts brightness, contrast and gamma so that every part of every frame is optimized. This results in a picture with greater depth-of-field, especially in scenes with both dark and light areas.
SharpEdge is the latest version of an exclusive Mitsubishi edge-definition system. New for this year, it enhances both horizontal and vertical edges for stunning picture precision. (Note: Audioholics recommends users turn this feature OFF.)
In separate announcements, Mitsubishi Digital Electronics America introduced its new lines of high-definition LCD and plasma flat panel displays, and Diamond line of 1080p DLP microdisplay HDTVs.
Discuss This Press Release in Our Forums
Mitsubishi Digital Electronics America Inc.
Mitsubishi Digital Electronics America Inc. manufactures and markets a comprehensive line of premium-quality high-definition projection televisions, HD LCD televisions, and plasma displays, as well as VCRs, DVD players, and an HDTV receiver/controller and related products for complete home theater systems. Recognized as the world leader and innovator of digital big screen television and receiver technology, Mitsubishi Digital Electronics America develops audio and video products that lead the industry in quality, performance and ease of use. For additional information about MDEA, visit http://www.mitsubishi-tv.com .
Plush, Plush1080p, ClearThought, NetCommand, DeepField, Dark Detailer, and SharpEdge are trademarks or registered trademarks of Mitsubishi Electric Corp. and/or Mitsubishi Digital Electronics America Inc. CableCARD is a trademark of Cable Television Laboratories Inc. Digital Light Processing and DLP are trademarks of Texas Instruments. TV Guide On Screen is a registered trademark of Gemstar Development Corp. HDMI is a trademark of HDMI Licensing LLC.