Microsoft Zune Player Specs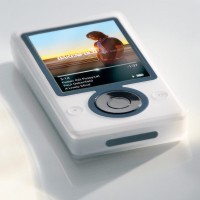 The Microsoft Zune 30GB digital media player has been the subjecto fo much speculation recently, though it appears to be making its way to retail shelves near you. The device allows you to share selected full-length sample tracks, playlists, pictures or your home-grown tracks directly from Zune to Zune - wirelessly. Discover new music in the Zune Marketplace, and show off your favorite pictures and videos on the big, bright 3-inch screen. Zune has all that and a built-in FM tuner, too. Sharing tunes takes on a whole new meaning...
Wireless Zune-to-Zune Tune Sharing
Zune lets you spontaneously share selected full-length sample tracks of your favorite songs, homemade recordings, playlists or pictures with friends wirelessly, device to device. You can listen to any song you receive up to three times in three days. And if you like a song you hear and want to buy it, you can flag it right on your device to find it later easily.
Large Color Screen
The Microsoft Zune MP3 Player comes with a bright 3-inch LCD video screen that works in portrait or landscape mode.
30GB Storage
This flexible digital media player stores up to 7,500 songs, 25,000 pictures or 100 hours of video. Make playlists on the go and watch a slide show while you're listening.
Online Music Store
Browse the huge selection of music designed to work seamlessly with your Zune in the Zune Marketplace. When you find new music that you love, it's simple to buy it and sync it on your player. The Zune Marketplace works with the Microsoft Points program, so you can even purchase music online without a credit card. Whether you prefer downloads or a subscription-based program, a Zune Pass subscription gives you "all you can eat" access to discover and explore the Zune Marketplace.
Built-In FM Tuner
With the Zune's built-in FM tuner you can listen to local FM radio stations or tune in to programming while you're at your local health club, if available. Advanced tuning capabilities allow you to see the name of the song currently playing on selected frequencies if the station broadcasts a Radio Broadcast Data Standards (RBDS) signal.
Import Your Music
Zune software can automatically import your existing music, pictures and videos from iTunes and Windows Media® Player in a variety of formats, including your existing playlists and song ratings. Some content is protected by the service from which you purchased it; those files cannot be imported. The Zune software on your PC will let you know when updates are available for download.
The Microsoft Zune MP3 Player is also available in black.
Specifications
Microsoft Product No:
ZUNE WHITE
Dimensions:
2.48" W x 4.17" H x 0.65" D
Weight:
6 oz.
Memory:
30GB
Capacity:
7,500 songs (based on 128KBps WMA files, 4 minutes long), 25,000 pictures or 100 hours of video (based on 500KBps WMV files, 128KBps WMA audio tracks)
LCD:
3" diagonal
Imported Files:
Audio files in unprotected WMA, MP3, AAC; photos in JPEG; and videos in WMV, MPEG-4, H.264
PC Requirements:
Windows® XP with Service Pack 2 and high-speed Internet connectivity
Warranty:
180 days
Included:
Microsoft Zune MP3 Player
Earbuds
USB cable
Instructions
Preorders seem to be taking place already at SmartHome .