Meridian Announces In-Wall Subwoofer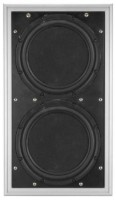 Austell, GA - As part of the launch of its new 300 Series of installation loudspeakers, Meridian Audio Limited has announced the forthcoming introduction of an in-wall subwoofer to augment the line. In addition to complete integration with a Meridian audio system, the SW300 In-Wall Subwoofer can, like the 300 Series of installation loudspeakers as a whole, be employed with third-party systems.
The SW300 consists of two separate parts: the in-wall unit itself and a rack-mount S300A Active Subwoofer Controller that will drive up to two in-wall units. The in-wall unit is the same size as the company's 320 in-wall: with a back-box that is under a foot wide and under 4in deep, it stands just under 2ft tall. Inside the rigid, aluminum and marine-ply enclosure, specially-designed to minimize cavity and wall resonances, are mounted a powerful 8in bass driver and an 8in Auxiliary Bass Radiator. A single cable pair feeds the unit from the rack-mounted Active Subwoofer Controller. Overall system in-room response is quoted as 20-160Hz.
The controller includes a conservatively-rated linear power supply with a true toroidal transformer, alongside two powerful amplifiers each capable of delivering 180W into 4Ω. The controller includes balanced analog inputs on XLRs along with mono, left and right inputs for each amplifier. There is also an S/PDIF digital input carrying two input channels, either or both of which can be picked up by either amplifier. Controls per channel include gain, lowpass filter frequency (40-150Hz plus defeat), digital input channel selection (1, 2 or 1+2), absolute phase and reset. The unit also includes Meridian Comms control interconnection with other Meridian products via DIN and BNC connectors.


The SW300 In-Wall Subwoofer system will be available later in the year: MSRP to be announced.
About Meridian Audio
Meridian Audio Limited is based in Huntingdon, near Cambridge, UK, and was founded in 1977 by Allen Boothroyd and Robert Stuart. With a 25-year history of innovation and development of the highest quality consumer audio systems, the award-winning company is widely recognized as a world leader in digital and analog audio reproduction.
Meridian developed the world's first audiophile CD player, the world's first consumer digital surround controller, developed the MLP lossless packing systems mandated for use in DVD-Audio and included in emerging high-definition disc formats, and is the only UK audio hardware manufacturer to be a member of the DVD Forum. The company's optical disc players, DSP-based loudspeakers and Digital Theater systems are unique in the industry, maintaining a super-quality digital audio signal throughout the path from the source to the amplifier, and using digital signal processing to generate advanced crossover characteristics that would be impossible with conventional passive analogue systems. Meridian is also the exclusive manufacturer and distributor of Faroudja High-Definition video processors and projectors.