SST Takes Shot at Wireless Audio with MelodyWing ST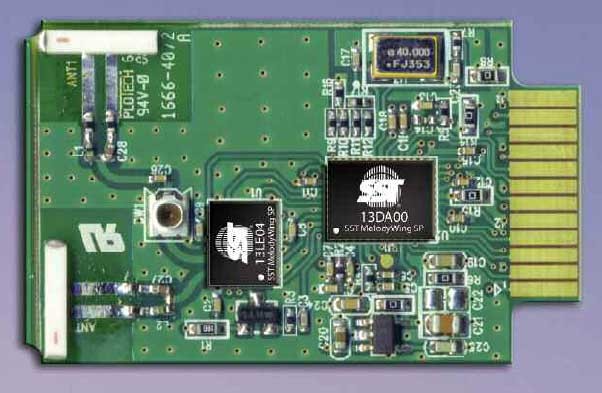 MelodyWing SP chipset
Today marks an important day in the world of wireless audio: yet another company has claimed the technology to do it right. We've been really supportive of the concept of wireless audio for some time, however we have yet to see a practical, working solution that doesn't have major hangups in terms of either reliability or sound quality at full bandwidth.

SST Communications, a developer of RF integrated circuits for a wide range of wireless and multimedia applications today announced the MelodyWing SP advanced wireless audio solution. According to the product brief, the MelodyWing SP offers:
"Uncompressed, wire-equivalent sound quality for home theater surround sound and multi-room audio broadcasting found in a growing number of home entertainment applications; including HDTVs, home theaters, set-top-boxes, headsets, game consoles, home gateways, multimedia PCs and audio streaming."

The new solution enables each transmitter to wirelessly stream high-quality sound to two full-range speakers and a sub-woofer. MelodyWing SP Smart Channel automatically selects the un-congested radio bands at both 2.4GHz and 5GHz, to avoid interference with other wireless equipment.
Daniel Chow, president of SST Communications was quoted as saying, "Existing wireless audio solutions mostly operate at the congested 2.4 GHz radio bands and often exhibit poor audio quality in the form of distortion and noticeable breaks in the audio. As a result, consumer demand for wireless surround sound and multi-channel, multi-room audio streaming for digital home entertainment systems have been slow to develop. Now, with the introduction of the dual-band 2.4 and 5 GHz MelodyWing SP audio solution with Smart Channel, consumers will be able to enjoy high-quality, pop-free sound effects from wireless surround speakers and high fidelity audio streaming for multi-room broadcasting."
MelodyWing SP Chipset's Key Features
The MelodyWing SP supports two standard digital audio interfaces: S/PDIF and I2S (found on digital audio ICs), offering flexibility in supporting a variety of existing and future consumer electronic audio/video products. Support for factory programmable worldwide ISM 2.4 and 5GHz radio bands (2.4GHz and 4.9-5.8 GHz) and output power allows the MelodyWing SP to meet various certification and power requirements as needed. The Smart Channel feature permits selection of an uncongested channel in the available ISM bands to avoid collision with other co-site wireless equipment. As part of a wireless digital home entertainment system, the MelodyWing SP chipset can be configured in four flexible solutions. These include:
The Single Link wireless configuration mode allows a single wireless S/PDIF or 2.1 channel I2S connection between the audio source and a 2.1 multi-channel speaker system comprised of a subwoofer and left and right speakers with a wired connection to the subwoofer.
The Triple Link wireless configuration mode allows three simultaneous wireless connections between the audio source and a 2.1 multi-channel speaker system comprised of a sub-woofer and left and right channel speakers.
The Hextuple Link wireless configuration mode allows six simultaneous wireless connections between the audio source and a 5.1 multi-channel speaker system comprised of a center speaker, a sub-woofer, left and right front speakers and left and right rear speakers.
The Multi Link wireless configuration mode allows multiple simultaneous wireless connections between the audio source and multiple 2.1 multi-channel speaker system located in multiple rooms.
The physical distance supported is 20 meters for single-room applications. The distance supported for Multi Link solution can be further extended according to customer needs.
The MelodyWing SP system claims to support up to 24-bits per channel for stereo (also compatible with 16-bit stereo), 90dB dynamic range and IEC support for MP3, AAC, AC3 and DTS modes. The MelodyWing SP solution requires no firmware drivers or additional hardware for set-up. The embedded SuperFlash memory provides flexibility for system configuration and 48bit security code for privacy protection.
Specs
Frequency of operation: 2.4, 4.9, 5.1, 5.2, 5.4, and 5.8 GHz ISM Bands
Channel spacing: 20 MHz
Receiver sensitivity: -85dBm at .001% BER
Transmitter output power: >15 dBm depending upon regulatory requirements
Distance: 20m for one-room applications with extensibility in multi-room applications
Audio interface(s): S/PDIF (single port compliant to AC-3, DTS, MP3, AAC); and Dual I2S ports (Stereo and LFE)
PCM: 24-bits per channel for stereo, 16-bit compatible
Sampling rates: Accepts 32, 44.1, 48, 88.2, 96, 192 kHz
Frequency response: <0.5 dB from 10Hz to 10kHzl <1dB from 10kHz to 22kHz
THD: 0.2% from 1kHz to 22kHz; 0.3% for 100Hz - 1kHz
Latency: Programmable 1ms - 80ms
Security: 48-bit of IEEE 802.3-like MAC address
Supply voltage: 1.8V and 3.3V
DC power: 250mW operating, <50mW standby
Operating temperature: -10 to +86 degrees C

Pricing and Availability
It's important to note that this is not a finished product, but a technology that will require partners to integrate it into a finished system. The MelodyWing SP wireless audio boards are comprised of the transmitter board SST11SC03 and the SST11SC04 receiver board. Pricing for the devices is $21.62 for the SST11SC03 and $21.62 for the SST11SC04, each in 10K unit quantities. Evaluation kits are currently available. For more information visit http://www.sst.com.