Meedio Announces Meedio TV DVR Software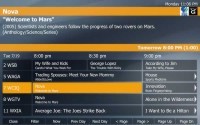 SAN DIEGO - July 22, 2005 - Meedio is very pleased to let you know that Meedio will be announcing the availability of our much anticipated new software application, Meedio TV, on July 27. Meedio TV will be the single most flexible digital video recorder ever introduced. Built on top of the same award-winning Meedio platform that powers Meedio Essentials, Meedio TV will be available as a standalone application, or as a seamlessly integrated bundle with Meedio Essentials.
Here are just a few of the features:
FREE integrated Electronic Program Guide (EPG) with listings from Tribune Media Services.
Support for third-party EPG services based on XMLTV.
Multi-tuner viewing, timeshifting and recording with conflict detection.
Search and browse recorded programs by time, channel, keyword, title, cast, or any custom-defined categories. Leverage the full power of the Meedio platform to customize the experience that fits you best.
Search scheduled broadcasts by time, by channel, by title, by keyword, or by cast and credits.
Recordings automatically added to the Meedio media library.
Supports external tuners through composite and S-Video inputs.
One-time or repeating recordings with repeat detection and prioritization.
Records in a background process when Meedio is not running.
Auto-delete recordings, manage hard drive space, and create recording quality profiles.
On-screen configuration wizard.
Manages special European channel and frequency assignments.
When used with Meedio Essentials, provides a seamless and fully customizable interface to digital photos, music, movies, news, weather, games and over 200 application plugins.
Screenshots (click for larger pic):
Meedio TV solo costs $59.95. Bundled with Meedio Essentials, a more general Media Center-like digital media management interface, the software costs $99.95.
About Meedio
Headquartered in Houston, Texas, Meedio develops innovative software for digital home entertainment and automation systems. Meedio provides a robust middleware platform, a suite of plug-in applications, a customizable user interface, and an extensible media library. Meedio's software is enjoyed by users in 41 countries and is licensed to resellers, OEMs, and ISVs worldwide. Visit Meedio online at http://www.meedio.com.