Maxx Products Intros TruVision - 3 New Aggressively Priced HD Plasma TVs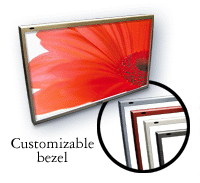 PENN VALLEY, Calif., Aug. 11 - Maxx continues to redefine the home theater experience with the introduction of its new line of elegant and innovative High Definition (HD) TruVision plasma flat panel displays. The new line up includes the TruVision 42, 42HD and 50HD, which are available today through authorized dealers worldwide.
The Maxx TruVision plasmas combine style, performance and value. The HD-compatible TruVision 42 offers a choice of bezels in glossy black, flat black, white and red, allowing enthusiasts to match customized home-theater designs. The MSRP of the TruVision 42 with interchangeable bezels is $4,495.
The customizable MAXX TruVision 42 incorporates a series of high-end features, which deliver exceptionally bright images and outstanding contrast and color. It features a native resolution of 852 x 480, a 3000:1 contrast ratio, super-bright panel, (1000cd/m2), advanced gamma correction, a viewing angle of 160 degrees, S-VGA/XGA compatibility, fan-less cooling for quiet operation and integrated 2W x 2 speakers.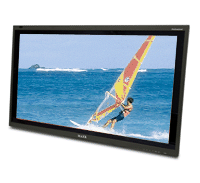 The TruVision 42HD and 50HD offer performance and innovative design to deliver a vivid, bright, crystal clear picture for home theater aficionados. The displays feature native resolutions of 1366 x 768, a contrast ration of 3000:1 and UXGA, SXGA, XGA, SVGA, and VGA resolutions. These powerful plasmas display 480i/p, 720p, and1080i video formats. The 42HD and 50HD offer a series of A/V connections including S-Video, composite, Component, DVI, Mini-Jack PC Audio and D-Sub inputs with D-Sub, RCA and Amplified Audio R/L outputs. The TruVision 42HD and 50HD hits the market with very aggressive MSRPs of $6,495 and $6,995 respectively.
"Our new line of TruVision plasmas will enhance any home theater without the usual high price tag of comparable displays," said Scot Kenney, President of Maxx Products, Inc. "With the unique ability to custom design the TruVision 42 combined with a leading feature-set, users will have the ability to design their home theater to both performance and design specifications. The combination of performance and value in our new high definition 42HD and 50HD, users get the most bang for their buck, leaving additional budget to host a lavish first screening with friends and family."
Availability and Warranty
Maxx Products sells through authorized dealers worldwide. Customers can visit www.maxxproducts.com for a local dealer. The company offers a one-year warranty for parts and labor. Extended standard warranties are also available.
About Maxx Products
Maxx Products is redefining the home theater experience with its line of cutting-edge Plasma TV displays, LCD TV displays, LCOS & DLP Projectors, video processors, SDI DVD players, and a series of high-end cables designed for creating the complete home theater solution. Maxx Products has over 27 years experience manufacturing and selling video products as a division of VPW LLC. The company is located at 11334 Pleasant Valley Road Penn Valley, CA. 95946 and can be reached at 866-410-9751. For more information on MAXX Products please visit www.maxxproducts.com.