MAXX Products Introduces TruVision Digital Video Processor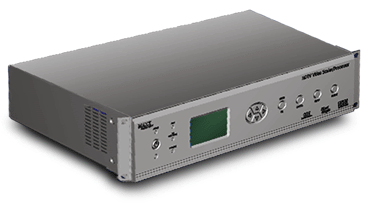 Penn Valley, CALIF. June 23, 2004 - MAXX Products continues to enhance the home theater experience with the introduction of its TruVision digital video processor - representing the first product in a new line of high performance home theater solutions.
MAXX TruVision combines state-of-the art digital video transmission, processing, scaling and format conversion, delivering unprecedented movie theater-quality at an attractive, price. The TruVision is the only video processor currently on the market to feature SDI, DVI, and RGBS inputs and also includes user-customizable output resolutions and DCDi™.
"Our new line of TruVision products fuse style, performance and scalability for audio/video enthusiasts to design their ideal home theater without overpaying,' said Scot Kenney, President of MAXX Products, Inc. "The TruVision processor enhances the source analog or digital signal to produce crystal clear, life-like video at any scale for the most incredible viewing experience possible."
The MAXX TruVision includes DCDi, which analyzes video material at single pixel granularity to detect the presence or absence of angled lines and edges. It produces a smooth and natural looking image without visible artifacts or "jaggies." DCDi eliminates jagged edges normally seen on angled lines in motion video, creating smooth and natural-looking images.
MAXX TruVision includes three SDI inputs as standard which allow zero picture quality loss as the video is transported from SDI-equipped DVD players/set-top-boxes to the video scaler/processor. SDI signals can be transmitted over long distances without loss of quality, allowing increased installation flexibility. The processor also included DVI (Digital Visual Interface) output. When combined with the SDI input, a full-digital signal path from the video source to the digital display devices can be displayed without any signal degradation caused by unnecessary digital-to-analog or analog-to-digital conversion.
TruVision features Truelife™ enhancement uses non-linear algorithms to enhance the small details and colors in images, and improve depth perception by sharpening large edges without introducing visual artifacts or distortion. The overall result is a richer, more pleasing, high definition-like picture.
The MAXX TruVision supports virtually any video image aspect ratio and display devices aspect ratio including, but not limited to, video images ranging from 4:3, 16:9, 16:9 letter box, to 2.35:1 anamorphic; and display device aspect ratio from 4:3, 16:10, 16:9, to 2.35:1. Featuring
CrystalWall™ technology, TruVision's large zoom focus can enlarge the image up to 10 times the screen height.
Other key TruVision features include:

Advanced 6-Tap, 64-phase scaler / up converter to offer top notch scaling capability

Preset digital timings of popular digital display devices

User-customizable output resolution to match the user's display devices

Tearless frame rate conversion, 50/60/72/75/100/120Hz

Edit Correction - film content is continuously monitored for any break in sequence caused by "bad edits" and quickly compensates for the most effective reduction in artifacts

Motion Adaptive Noise Reduction to improve picture quality for analog inputs

Chroma filter to mask the chroma-bug of MPEG decoders

Adaptive comb filter for excellent chrominance/Luminance separation and reduced cross color and cross luminance artifacts

Film Mode Processing for proper de-interlacing of 2:3 and 2:2 pull down material

HDTV up conversion, scaling and frame doubling

Various Zoom controls including "Best Fit", "Full Width", "Full Height", and customization from 0.5 to 10 times screen height

Firmware upgradeable through built-in Ethernet and USB ports
Availability and Warranty
MAXX Products sells through authorized dealers worldwide. Customers can visit www.maxxproducts.com for a local dealer. The company offers a one warranty for parts and labor. Extended standard warranties are also available.
About Maxx Products
MAXX Products is redefining the home theater experience with its line of cutting-edge Plasma TV displays, LCD TV displays, LCOS & DLP Projectors, video processors, SDI DVD players, and a series of high-end cables designed for creating the complete home theater solution. Maxx Products has over 25 years experience manufacturing and selling video products as a division of VPW LLC. The company is located at 11334 Pleasant Valley Road, Bldg. A Penn Valley, CA. 95946 and can be reached at (866) 410-9751. For more information on MAXX Products please visit www.maxxproducts.com
DCDi and TrueLife are trademarks of Faroudja
CrystalWall is a trademark of Crystalio