Marantz Releases VP-11S1 1080p DLP Projector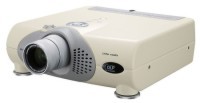 MAHWAH, NJ - June 29, 2006 - Marantz America, a renowned manufacturer of advanced home entertainment solutions, established clear leadership in the High-Definition DLPTM front projector field with the introduction of the long-awaited VP-11S1, a single-chip DLP Projector featuring full upconversion capability for all video sources to 1080p HD resolution. Representing Marantz' commitment to providing its customers with superior video solutions for all home theater applications, the VP-11S1 delivers image quality previously unavailable in anything but the highest-priced professional projectors, including full uncompressed HDTV 1920x1080 pixel resolution for incredibly realistic, detailed and lifelike images - virtually indistinguishable from film quality.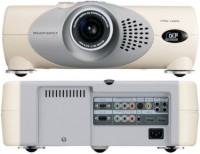 New Image-Enhancing Technologies from Texas Instruments and Gennum Corporation
Key to the VP-11S1's unprecedented image reproduction capabilities is the inclusion of Texas Instruments' first true 1080p HD chip, which more than doubles the pixel count of previous 720p chips to over 2 million pixels. Furthermore, the super-reflective micromirrors of the new DLP® chip are smaller, making the total area only approximately 1.4 times as large as a 720p chip. In addition, the chip is now controlled by dual drivers, Texas Instruments' newly developed DDP3021. Used in parallel, the drivers provide precise control over the more numerous mirrors and enable 12-bit gamma processing, resulting in the expression of image gradations that are four times richer. This allows the VP-11S1 to display an astounding 68-plus billion colors on screen! Further enhancing image quality is the use of the specially designed 10-bit image processing chip with Visual Excellence Processing (VSP) from Gennum Corporation.
Noted Kevin Zarow, Vice President, Marketing and Product Development, Marantz America, Inc: "The VP-11S1 is a groundbreaking home version of a true professional digital cinema projector. Our engineering team designed this product from the ground-up in order to make it ideal for maximum viewing enjoyment of all the latest high-definition formats, including both Blu-Ray and HD DVD. With the VP-11S1, users can be assured that no matter how big the image or how close they sit to the screen, the image will approach true film quality in its smoothness and unprecedented realism."
Razor-Sharp Images, Plus Unique Color Capabilities
The VP-11S1 features the die-cast aluminum chassis of Marantz' acclaimed VP-12 series, coupled with the latest in custom fully sealed 13 element all-glass optics from Konica-Minolta. In addition, the customized color filters are optimized to match the spectral characteristics of the industry's only 200 Watt DC SuperHighPressure lamp assembly. This assures that not only will the picture be razor sharp and evenly illuminated, but the colors will be accurate, pure and fully saturated for breathtaking realism. In addition to having new color filters, the color wheel itself spins at an astounding 10,800 RPM which correlates to a color frame rate of 6x, drastically reducing the possibility of image-degrading color breakup (rainbow effect or RBE). To ensure quiet operation of the fast-spinning color wheel, the VP-11S1 features a specially designed Quiet Fluid Dynamic Bearing motor, borrowed from Hard Disc Drive (HDD) technology, for virtually silent and reliable operation.
Ideal for Custom Installations
The VP-11S1 is designed for maximum installation ease and compatibility with all types of components and home entertainment systems. In addition to dual HDMI inputs, the VP-11S1 provides HD component video, S-video, composite video and analog RGB connections. It has a vertical lens shift which allows for the projector to reside at locations well above the top of the screen, which makes for extremely easy integration into even the most difficult to match decors. For integrated operation in a custom installation, the projector includes remote inout connections, RS-232C serial control ports and two DC trigger connections that can trigger two independent operations. This allows the projector to reconfigure a dual-aspect ratio projection screen whenever the aspect ratio of the program source changes from 16:9 to 4:3. In order to enhance its functionality in many different home entertainment setups, the VP-11S1 provides users with two lens options, two color options, a mechanical lens shift that allows mounting above the screen, full RS232 control and more. For the most discriminating film aficionados, the VP-11S1 includes a Vertical Stretch mode that eliminates the black borders on widescreen movies when viewed on a 2.35.1 screen. To enjoy this benefit, an additional purchase of a specially designed anamorphic lens will be required.
Adding to its custom installation flexibility, the VP-11S1 features a comprehensive onscreen menu system that enables easy setup, yet provides extensive calibration facilities including a wide range of color temperature and gamma adjustments.
The VP-11S1 is now shipping to dealers and will be available to consumers in July for a suggested retail price of $19,999. Marantz plans to introduce a second version of the VP-11S1 in the fourth quarter of 2006 that will feature a long-throw lens.
About Marantz
Marantz America is committed to upholding the tradition of technological superiority initiated by founder Saul Marantz. In keeping with this emphasis on quality, Marantz audio and video components are carried only by the nation's premier independent audio/video specialty retailers. Additional information is available at www.marantz.com. Marantz America is a wholly owned subsidiary of D & M Holdings Inc.
About D & M Holdings Inc.
D & M Holdings Inc. (TSE II: 6735) is based in Tokyo and owns the Denon, Marantz, McIntosh Laboratory, Boston Acoustics, Snell Acoustics, D & M Professional, ReplayTV® and Escient® brands. Denon, Marantz, McIntosh and D & M Professional are global industry leaders in the specialist home theater, audio/video consumer electronics or professional audio markets, with a strong and long-standing heritage of manufacturing and marketing high-performance audio and video components. Boston Acoustics, with its signature The Boston Sound,™ is a leader in premium loudspeakers for home and audio markets. Snell is a super premium speaker brand. The ReplayTV and Escient brands represent award-winning technologies in digital home entertainment. Additional information is available at www.dm-holdings.com.