Mad Catz Launches New Wireless MicroCON Controllers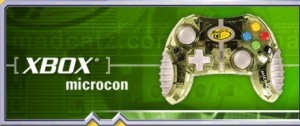 SAN DIEGO - Dec. 23, 2004 - Mad Catz Interactive, Inc. (AMEX/TSX: MCZ), the world's leading third party video game accessory manufacturer, announced the launch of wireless versions of its highly successful MicroCON(TM) line of "micro" sized controllers for Xbox(R), Playstation(R)2 and Gamecube(TM) video game systems. The controllers are available nationwide for an estimated retail price of $24.99.


"Wireless controllers have been a high growth accessory category this holiday season," said Darren Richardson, President and CEO of Mad Catz. "The launch of the Microcon wireless line provides an additional opportunity to capitalize on that growth."
A natural extension of the Microcon line, the Wireless Microcon Controller sports all of the quality features game players have come to expect from the pint-sized controller, including the slim, ergonomic design, comfortable rubber grips, and high-quality analog buttons and joystick. With a 30 foot signal radius from controller to console, the Wireless Microcon is the ultimate tool for gamers ready to cut the cord.
Product Features:
15% smaller than traditional controllers
Grooved rubber grips
Fully analog action buttons, joystick and d-pad
30 foot signal radius between controller and console
One expansion bay (for Xbox Wireless Microcon) for Xbox Live play
Up to 40 hours of game play with 2 AA batteries
Available in three colors: black, green, and orange--with special edition colors on the way!
More information about the Wireless Microcon controllers can be found at: www.MadCatz.com .
About Mad Catz
Mad Catz designs, develops, manufactures and markets a full range of high quality, value priced accessories for video game systems and is an integrated publisher of interactive entertainment software games, including the industry leading GameShark brand of video game enhancements. As a worldwide leader within the video games accessories industry, Mad Catz is committed to developing innovative and unique user interface accessories and interactive software games. The company globally markets and distributes video game accessories through its Mad Catz brand through leading retailers in North and South America, Europe, Australia and Asia. With operating headquarters in San Diego, California, Mad Catz has offices in Canada, the U.K. and Asia, as well as distributors in Europe and Australia. Mad Catz' common stock is publicly traded on the American Stock Exchange and the Toronto Stock Exchange under the symbol MCZ