M-Audio Revolution 5.1 PCI Sound Card Introduced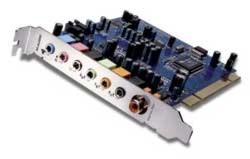 LOS ANGELES - Aug. 4, 2004 - M-Audio, industry-leading manufacturer and distributor of hardware and software for computer-centric musicians, is proud to introduce the Revolution 5.1 high-definition surround sound card for PCI-based Windows and Macintosh computers. Built upon the same architecture as the multi-award winning(1) Revolution 7.1, Revolution 5.1 offers a multitude of features for today's power user.
M-Audio designed the Revolution 5.1 with a keen eye toward gamers. Today's hottest gaming technologies, such as EAX, OpenAL, A3D, DirectSound and Sensaura, are built right in allowing 3D audio positioning and realistic environmental simulation. Revolution 5.1 also features low CPU usage, an important factor for lightning-fast visual response in gaming. Gamers are now able to hear the enemy sneaking up behind them or experience an airplane flyby with stunning audio detail. The product ships with a fully functioning version of Activision's Wakeboard Unleashed featuring Shaun Murray -- the first game optimized for surround sound on the Macintosh platform.
Revolution 5.1 also brings DVD movies and games to life with up to 5.1 surround sound. Three 1/8-inch stereo jacks provide six discrete outputs -- five for main speakers and one for a subwoofer -- for channel-accurate surround reproduction. All six of the Revolution 5.1's outputs simultaneously deliver high-definition audio up to 192kHz at 24-bit resolution for a true audiophile listening experience. WinDVD 5 OEM is included for software decoding of Dolby Digital 5.1 and DTS. Revolution 5.1 also features an S/PDIF digital output providing Dolby Digital and DTS pass-through to home theater systems.
"Revolution 5.1 borrows heavily from Revolution 7.1 to deliver amazing surround sound in a multi-use card that's perfect for avid gamers or home entertainment enthusiasts," says Adam Castillo, M-Audio's marketing director. "And where most cards sacrifice audio quality for surround sound playback, our Revolution products deliver full 192kHz fidelity on all channels. Listeners can finally enjoy movies, music and games the way they were meant to be experienced. Revolution 5.1 delivers serious audio performance and quality with ease of use designed to appeal to a wide segment of the consumer market."
Like top-end home theater systems, Revolution 5.1's soundstage is fully configurable. The control panel allows adjustment for speaker size and distance, dialogue clarity and bass management. In addition, SRS TruSurround XT is included for recreating surround sound environments while only using two speakers or headphones. Revolution 5.1 also incorporates SRS Circle Surround II that dynamically separates instruments, vocals, and even crowd noise to deliver larger-than-life virtual surround sound from normal stereo CDs or MP3s.
Home musicians will also appreciate the 24-bit/96kHz 1/8-inch stereo line input for recording their own music, as well as an 1/8-inch direct microphone input. Impressive specs such as a high 109dB signal-to-noise ratio and dynamic range, and exceptionally low distortion (THD) rating of 0.00185% (-95dB) ensure that sound is clear and clean throughout the card.
The product operates on Windows 98SE, Me, 2000 and XP on an Intel Celeron 350MHz or AMD K6II 500MHZ with 128MB RAM, and Macintosh G4 with 256MB RAM running OS 9.2.2 or 10.1.5 or 10.2.6 or later. Check www.m-audio.com for details on recommended system requirements in various surround configurations.
The Revolution 5.1 sound card carries an MSRP of $99.95 and is currently shipping.
About M-Audio
M-Audio is a leading provider of creative tools for today's electronic musicians and audio professionals. Founded in 1988, M-Audio now has independent offices in the US, Canada, UK, Germany, France and Japan, as well as independent distribution in most of the rest of the world. M-Audio's ability to parlay advanced technology into affordable products has led the company to win some of the international audio community's highest praise and awards. For more information about M-Audio and its portfolio of consumer products, please visit www.m-audio.com.
(1) The Revolution 7.1 has garnered PC World's World Class Award,
MacWorld's Best of Show Award, MacFormat's Editor's Choice Award,
and TechSpot.com's Outstanding Product Award.