Lucas Opens New Headquarters in SF's Presidio
"Star Wars" creator George Lucas has opened up a brand new facility in the Letterman Digital Arts Center in the Presidio, a former military base and national park in San Francisco. Lucasfilm Ltd. threw a party Saturday with around 2,000 attendees to celebrate the new company move. Lucas wanted to move his companies there to give them a better workflow, but also to ensure that the park remained a beautified area with soe representation of the cultural arts which begain there. The companies that are making the move include the corporate offices of Lucasfilm Ltd., Industrial Light & Magic (the reknowned special effects house) and LucasArts (which produces video games). The center will also house the company's licensing division. Most of these companies are moving from Marion County.
Lucas will, of course, still keep Big Ranch, Skywalker Ranch, and its other Marin County properties which is the site for many filming locations and shoots.
On the outside, the Letterman Digital Arts Center combines professional and public spaces in a pristine, bayside 23-acre campus. On the inside, every inch of the workspace has been designed and wired to provide the most state-of-the-art infrastructure possible, blending the creations of the renowned Industrial Light & Magic with the acclaimed game development of LucasArts and the corporate functions of Lucasfilm Ltd.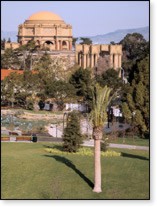 Letterman Digital Arts Center houses the engine for a "virtual studio" in which graphic artists, game developers and motion picture directors can collaborate on visual effects and digital creations in real-time, connecting them to anywhere in the world.
It is home to the largest computer network in the entertainment industry, a high-performance system designed to deliver large volumes of data and high-resolution images to artists' desktops, encouraging interactive collaboration on the creation of synthetic scenes and characters. Within the Letterman Digital Arts Center's 865,000 square feet is a massive data center housing a render farm, file servers and storage systems, allowing computers to work 24 hours a day, seven days a week processing data to create astounding visual images.
The campus is designed and wired for integrated, real-time workflow among digital artists. "We developed new software and engineered a new computing infrastructure specifically for the buildings," said Cliff Plumer, Chief Technology Officer for Lucasfilm Ltd. "Everything at the Letterman Digital Arts Center -- the campus itself, the digital tools, the network -- has been created to make possible real-time collaboration and facilitate creative decision making."
The computer network at the Letterman Digital Arts Center delivers a capability similar to working on a live movie set -- only "virtually." Distance boundaries have been eliminated, and digital artists can collaborate internally throughout the campus, as well as with creators of entertainment anywhere in the world.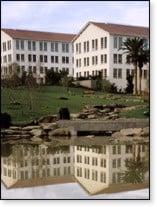 "The creation of the campus and the technology inside means that fewer and fewer obstacles are in the way of the creative process," says Dennis Muren, Industrial Light & Magic's senior visual effects supervisor, a thirty-year veteran at the company and winner of eight Academy Awards for best visual effects. We can collaborate more effectively with our clients, no matter where in the world they may be."
Facts and Figures
The Letterman Digital Arts Center is the new San Francisco home of Lucasfilm Ltd., Industrial Light & Magic and LucasArts. The campus includes:

A state-of-the-art high-performance data network with more than 300 10-gigabyte ports and 1,500 1-gigabyte ports -- the largest in the entertainment industry
Fiber-optics cable pulled to every artist desktop, enabling Lucasfilm to deliver high-resolution images to each digital artist
600 miles of cable throughout the four buildings on the campus
Raised floors throughout the building, opening the layout of the studio and enabling the workspace to be reconfigured with each new project
Data storage (at opening) of more than 100 terabytes
A Media Data Center to host custom-designed media servers to deliver high-resolution images to the on-campus digital theaters, screening rooms and desktops
Systems for image and sound editing, color management and correction, and high-speed compositing
A Media Control Room that manages media input, output, format conversions and duplication

A 13,500-square-foot data center houses a render farm, file servers and storage systems (a "render farm" is a cluster of computers that work around the clock to process synthetic images), including:

More than 3,000 AMD processors
Proprietary render-management tools, allowing desktop workstations to be added to the render farm pool after hours, expanding the processing capacity to more than 5,000 processors

The campus houses a 300-seat theater with a 49'x21' screen, optimized for both digital and film projection
There are two 65-seat dailies theaters for viewing visual effects work and for digital color timing
About Lucasfilm Ltd.
Lucasfilm Ltd. is one of the world's leading film and entertainment companies. Founded by George Lucas in 1971, it is a privately held, fully integrated entertainment company. In addition to its motion-picture and television production operations, the company's global activities include Industrial Light & Magic and Skywalker Sound, serving the digital needs of the entertainment industry for visual-effects and audio post-production; LucasArts, a leading developer and publisher of interactive entertainment software worldwide for video game console systems and PC; and Lucas Licensing, which manages the global merchandising activities for Lucasfilm's entertainment properties. Additionally, Lucas Online creates Internet-based content for Lucasfilm's entertainment properties and businesses. Lucasfilm's motion-picture productions include five of the 20 biggest box-office hits of all time and have received 19 Oscars and 59 Academy Award nominations. Lucasfilm's television projects have won 12 Emmy Awards.