Logitech Z-5500 Speakers - Wake the Neighbors!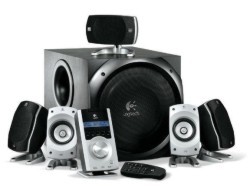 FREMONT, Calif.- Sept. 29, 2004 - Logitech, a leading manufacturer of multimedia PC speakers, today announced two new speaker systems designed to shake the rafters -- of the house across the street. The Logitech Z-5500 Digital and Logitech Z-2300 speaker systems deliver theater and concert quality to a living room or office. They take performance to a new level from a company that redefined performance when it introduced the award-winning Logitech Z-680 two years ago.
The Logitech Z-5500 Digital speakers, a 5.1 surround sound system with THX Select certification, can pound out 505 watts of power, thanks in no small part to a 10-inch subwoofer with enormous -- and adjustable -- bass. But the Logitech Z-5500 Digital speaker system isn't just about loud bass: It offers premium performance at any volume. It features 96/24 digital decoding capabilities for both the PC platform and home entertainment systems. The new 96/24 format is now being used on some enhanced DVD and audio discs, High Definition PC audio systems as well as advanced signal processing of all audio including PlayStation®2 games, Xbox® games, DVD movies and more.
The Logitech Z-2300 speakers are premier among 2.1 sound systems, offering 200 watts of power, enough energy to hear -- and feel -- digital music from the other side of the house. They are perfect for listening to music on the PC or on portable music players, as they deliver a rich, full and dynamic performance.
"The Z-680 was a tough act to follow -- but the new Z-5500 Digital speaker system has succeeded," said Ray Weikel, director of product marketing for Logitech's Audio Business Unit. "For DVD aficionados, music enthusiasts and hardcore gamers, the Logitech Z-5500 Digital system delivers highly refined surround sound to any living room or office. It is for people who want the best of the best. The Z-2300 speakers are in a class of their own among 2.1 systems. For those who want stereo sound but don't need surround sound, they provide an unparalleled listening experience."
Both sets of speakers are THX Select-certified, meaning that gamers and music buffs alike can rest assured that they are getting the best and most accurate theater-quality sound.
About the Logitech Z-5500 Digital Speakers
The Logitech Z-5500 Digital speakers will be available in the U.S. beginning in October for a suggested retail price of $399.95. The polished black and chrome 5.1 surround system -- which includes new digitally-equalized phase plug satellites and center channel, and a 10-inch subwoofer for powerful bass -- looks great and sounds magnificent. The satellite speakers have removable cloth grilles, and can be conveniently mounted to any wall due to their rotating stands. The Digital SoundTouch(TM) control center does the decoding of Dolby Digital, DTS, and DTS 96/24 soundtracks, producing unsurpassed clarity. The Logitech Z-5500 Digital speakers can connect directly into a DVD player or game console, with no need for a separate receiver. The system is also designed to work on PCs and with portable music players. In fact, the speaker system supports up to six devices, with an optical port, a coaxial port and four stereo ports as its standard configuration.
Each of five 3-inch digitally equalized aluminum phase plug satellites combines two drivers into one, providing the clarity of a tweeter with the richness and fullness of a mid-range driver. The 10-inch subwoofer delivers 188 watts of distortion-free powerful bass, based on the RMS (Root Mean Square) measuring system. The entire system pumps out 505 RMS watts, and 1010 watts of total peak power. The package also ships with a sleek, expanded-function wireless remote control -- great for use with home theaters, PCs or video game consoles.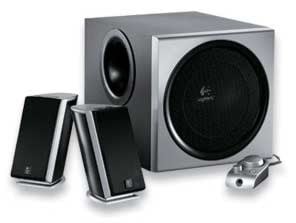 About the Logitech Z-2300 Speakers
The Logitech Z-2300 speakers, a stylish three-piece 2.1 channel system, can crank out 200 watts RMS and 400 watts of total peak power -- far more than competitive speakers in this price range. The two satellites have 2.5-inch polished aluminum phase plug drivers that provide rich, dynamic sound. The Logitech Z-2300 speakers will be available in the U.S. beginning in October for a suggested retail price of $149.95.
About 96/24 digital decoding
The numbers, 9624, refer to the digital audio signal's sampling rate (96 KHz) and bit depth (24). The higher the numbers, the better the audio quality. By comparison, a CD has a sampling rate of 44.1 KHz and a bit depth of 16, while a DVD has a sampling rate of 48 KHz and a 20-bit depth. The Logitech Z-5500 Digital speakers are among the first multimedia speakers to support this new format, used by many of today's elite-performance HD PC audio cards and on some enhanced audio CDs and DVDs.
Logitech's digital decoding breaks new ground in both accepting the newer High Definition sources and using 96/24 digital processing for functions such as speaker equalization, crossover and bass management. The result is unprecedented quality of sound and excellent signal-to-noise performance.
About Logitech
Founded in 1981, Logitech designs, manufactures and markets personal peripherals that enable people to effectively work, play, and communicate in the digital world. Logitech International is a Swiss public company traded on the Swiss Stock Exchange (LOGN) and in the U.S. on the Nasdaq National Market System (LOGI). The company has manufacturing facilities in Asia and offices in major cities in North America, Europe and Asia Pacific. Logitech, the Logitech logo, and other Logitech marks are owned by Logitech and may be registered. All other trademarks are the property of their respective owners.