Logitech Intros Z-10 Interactive 2.0 Speaker System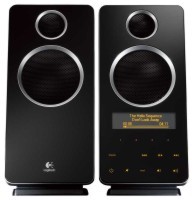 FREMONT, Calif. - Aug. 28, 2006 - Logitech today introduced the Logitech Z-10 Interactive 2.0 Speaker System, the newest member of Logitech's line of Advanced Peripherals, featuring a groundbreaking design that will change how people think about and use PC speakers. With built-in touch-sensitive controls and a backlighted display that shows digital-music track information, a clock, volume and more, these trophy speakers are meant to be touched and seen - in addition to filling a room with studio-quality sound.
"Until now, PC speakers have simply delivered sound," said Jef Holove, Logitech's vice president of product marketing for audio. "The Z-10 speakers aim to incite more of the senses - sight, touch and sound - with their media display, touch-sensitive controls and premium audio. And beyond that, these speakers are simply stunning, adding a level of design sophistication to their breakthrough digital music capabilities."
The past few years have witnessed the explosion of digital music. The use of Internet radio has also spiked noticeably. According to a recent worldwide survey by analyst firm Parks Associates, 40 percent of online households play music files on their PC and 33 percent listen to Internet radio streams. The Z-10 speakers reflect the growing importance of the PC as a hub for digital music, and the accompanying value of superior speakers to complete the experience. The speaker satellites' polished acrylic faces offer clean, minimalist facades accented by the digital display and each speaker's two metal mesh grills. Perfect for use with either a desktop PC or notebook PC, the powerful speakers deliver rich audio without using a separate space-consuming subwoofer.
By putting touch-sensitive controls on the face of the Z-10 speakers, Logitech has eliminated the need for people to toggle between applications to control their music on their computer monitor. People can continue to work or surf the Web, or even turn their monitor off and use the integrated speaker controls to adjust volume, treble and bass, and navigate music tracks with play, pause, skip forward and back buttons - just as they would with a portable music player or a traditional stereo system. Using USB technology and sophisticated software, the speakers can display track information from popular media players, including iTunes®, Windows Media® Player, Winamp, and Musicmatch®. The digital display also reveals a clock, volume levels and other system information from the PC.
The Logitech Z-10 speakers also have four Internet radio preset buttons located on the speakers' touch sensitive panel. When touched, the convenient preset buttons let users quickly save and recall their favorite Internet radio stations and playlists.
With integrated 1-inch tweeters and 3-inch woofers on each satellite, the Logitech Z-10 speakers offer a full range of clear, rich audio with amazing bass for their compact size. The built-in amplifier splits the high and low frequencies - called bi-amplification - directing the high-range signals to the tweeters and the low-range signals to the woofers - an approach that's typically used only in performance home-theater speakers.
Taking up minimal space - each satellite is 9.7-inches tall, 4.5-inches wide and 4.7-inches deep - the Z-10 speakers make an elegant addition to a desk, tabletop, or any other place where people might use a PC. A single USB cable provides both a digital audio signal and the information for the LCD, making it very easy to set up. The speakers also include a convenient headphone jack that enables private listening, and a 3.5 mm auxiliary input that can connect to MP3 players or other audio devices.
Pricing and Availability
The Logitech Z-10 Interactive 2.0 Speaker System will be available in the U.S. and Europe beginning in September. Its suggested retail price in the U.S. is $149.99. More information about the Z-10 speakers is available at the Advanced Peripherals section of Logitech's Web site, www.logitech.com/advanced .