Logitech Adds High-End Portable Speakers for iPod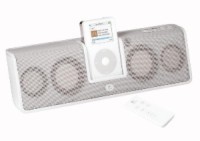 FREMONT, Calif. - Aug. 9, 2005 - Today, Logitech expanded its mobile music product offering with the introduction of two new speaker systems designed specifically for portable music players. The Logitech mm50 portable speakers for iPod and the Logitech mm28 portable speakers provide people with the high-quality sound that Logitech speakers are known for, and also solve key problems with portable speakers by offering extended battery life and extremely portable form factors.
"Many people want to share their digital music with friends, or listen to tunes out loud," said Ray Weikel, director of product marketing for Logitech's Audio Business Unit. "And, to do this, they want portable speakers that are easy to transport, include high-end features, and most importantly, deliver rich, clean sound. Logitech's two new portable speakers -- the mm50 and mm28 -- will be a welcome addition to the portable speaker lineup."
Logitech has developed products that target two different markets -- one is designed specifically for the iPod, and one works with any MP3 player.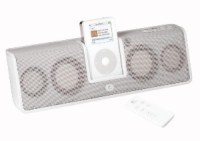 Logitech mm50 Portable Speakers for iPod
The new performance mobile music speaker system, the Logitech mm50 portable speakers for iPod, offers customized iPod features, superb sound quality, and a built-in rechargeable lithium-ion battery. The speakers simultaneously recharge the iPod battery as well as the speaker battery when powered by the included AC adapter. The speaker battery lasts up to 10 hours per charge. And, the mm50 includes a wireless remote control, allowing people to adjust the volume, track forward, track back, play and pause the music without touching the speaker system or the iPod.
By using Max-X high-excursion drivers, which include neodymium magnets, as well as three inch pressure drivers, Logitech enables people to hear fully balanced audio, maximum bass response and minimal distortion. And, when used, the added 3D Stereo technology dramatically widens the stereo image, enhancing the audio experience these portable speakers deliver. Overall, the listener will receive superior sound and bass performance from the Logitech mm50 portable speakers for iPod.
The Logitech mm50 portable speakers for iPod are included in Apple's "Made for iPod" program. "Made for iPod" means that an electronic accessory has been designed specifically to connect to the iPod and has been certified by the developer to meet Apple performance standards.
The mm50 portable speakers for iPod will work with any iPod with a dock connector on its base, which includes nearly all models sold in the past two years. The speakers also come with a protective travel case. The Logitech mm50 portable speakers for iPod will be available in September in the U.S. and in Europe for a suggested retail price in the U.S. of $149.99.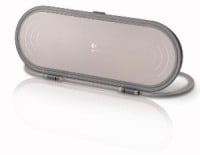 Logitech mm28 Portable Speakers
The Logitech mm28 portable speakers offer an ultra-thin solution that not only sounds great, but provides tremendous battery life. These speakers can be used with any MP3 or CD player that has a standard 3.5mm audio jack. The mm28 speakers use stereo NXT flat-panel technology, which significantly enhances the bass performance, while still enabling Logitech to offer a truly portable form factor. The mm28 portable speakers are less than 1.25 inches thin. The speakers include an integrated speaker cover that rotates to become the speaker foot -- so no carrying case is required. And, the input cable fits into a recessed area on the back panel, providing a truly portable one-piece speaker system.
The speakers can be powered by either the included AC adapter or by four AA batteries -- the speakers can last up to 45 hours on a single set of batteries. The Logitech mm28 portable speakers will be available in September in the U.S. and in Europe for a suggested retail price in the U.S. of $79.99.
About Logitech
Founded in 1981, Logitech designs, manufactures and markets personal peripherals that enable people to effectively work, play, and communicate in the digital world. Logitech International is a Swiss public company traded on the SWX Swiss Exchange (LOGN) and in the U.S. on the Nasdaq National Market System (LOGI). The company has manufacturing facilities in Asia and offices in major cities in North America, Europe and Asia Pacific.