LG Magic Remote Debuts with Voice Recognition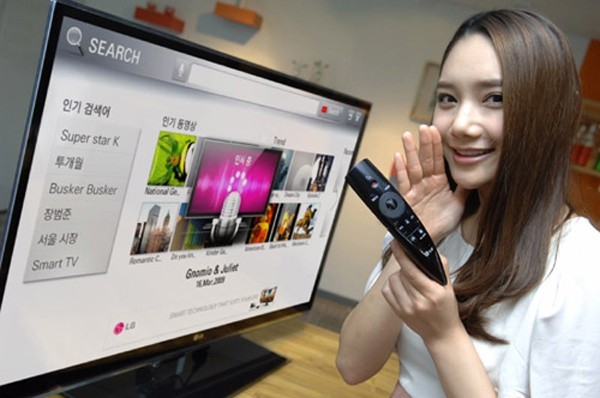 LG Magic Remote Debuts with Voice Recognition
Perhaps the next movement in remote controls is just around the corner. With rumors of an Apple-branded TV pending, LG Electronics (LG) wanted to beat everyone to the punch and release a new and innovative remote control for its newest Cinema 3D Smart TVs. It's called the Magic Remote and it employs voice recognition, wheel, "magic gesture" and pointing functions. LG's Cinema 3D Smart TVs provide access to over 1,000 apps as well as premium content. The Magic Remote difference from a conventional remote controls in that it all-but eliminates the standard push-button methodology of control. LG claims that buttons are merely one dimension of an intuitive user experience. By implementing voice recognition technology into the Magic Remote, users can use their voice to enter text such as search terms.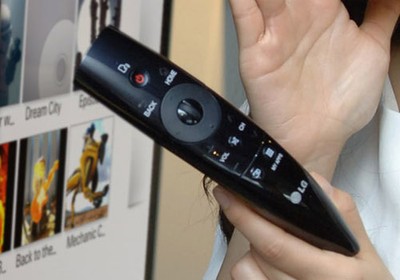 There is a wheel located at the center of the Magic Remote enables users to swiftly scroll up and down various menus and apps, allowing users to make quicker selections. Meanwhile, the Pointing function (formerly known as Point and Click) allows users to simply point the Magic Remote toward the TV screen and drag the on-screen cursor to make selections. Through Pointing, users can also navigate through LG's Smart TV system without having to use multiple buttons and arrow keys. Additionally, physical Magic Gestures can be inputted as commands, enabling users to control Cinema 3D Smart TVs with simple arm or wrist movements.
In addition to the four control functions, the Magic Remote also offers the 3D button, which undertakes 2D to 3D conversion with a single click of the button. We also like the arched ergonomic design of the new Magic Remote, which makes it easy to grip and hold onto during use.
Will this signify a movement towards more voice control in future remote controls? Hit us up in the forum link below and weigh in.
Adam posts on December 28, 2011 11:50
BMXTRIX, post: 852269
The biggest issues I see with the TVs is that they use cruddy bottom of the line processors which take far to long to respond and are horrendously underwhelming.
So true. Everytime I launch Viera Cast, I get that twitch that always happens when something takes just enough longer than it should that it annoys me (like when I pick the wrong check out line at the store).
BMXTRIX posts on December 28, 2011 11:41
I've said for years that one of the best ways to do remotes would be with good voice recognition. Apple does a good job with the iPhone/Touch products, but TVs are generally poor to miserable with this stuff.

Instead, I could see browsing sites with a mouse-like remote and some voice commands to bring up websites or recall favorites or history. To browse movies or music by voice would be far quicker…

Maybe

The biggest issues I see with the TVs is that they use cruddy bottom of the line processors which take far to long to respond and are horrendously underwhelming. So, you have your entire audio library availble to your TV… The visual interface may be terrible, and it didn't do a proper import of your songs with cover art from iTunes, so you are looking at a text list. You say 'Browse to M' and it takes ten seconds to jump down to songs starting with the letter M. No, you want to sort by artists… Another ten second wait. You are back at the 'A', so you have another ten second wait to get to 'M' again.

This is where Apple tends to excel in that they provide processing power which generally matches their software requirements so you get a visually appealing interface which responds quickly.

Now, as long as you buy 100% of everything from iTunes and keep a PC up and running with all of your content on it and the PC running iTunes 24/7 you are good with that Apple product.

I have absolutely NO faith that Apple will produce a decent product in their TV after their highly proprietary Apple TV product. I certainly don't see LG as being one up on Apple in this regard.

Darn, I'm such a pessimist on this stuff.
Adam posts on December 28, 2011 08:20
My dad would probably hate that. "Where are the buttons?!"

I can imagine their customer support phone calls. "I think this remote is broken. I can't get the TV to TURN ON!!! Oh, wait. There is goes…"

On the flip side, it could unleash a whole new fire storm of posts on here.
Post Reply